Pros And Cons Of The Polaris Ranger Crew
Dec 15th 2019
Every UTV has its pros and cons, and the perfect machine for one rider might not be optimal for another. And so it is with the Polaris Ranger Crew. Although the Crew-Cab Polaris Ranger is a larger machine capable of hauling maximum cargo and passengers, the very thing that makes it a perfect machine for large loads also makes it underwhelming on tight trails. Is the size of a Polaris Ranger Crew 570 right for you? Or how about the 2021 Polaris Ranger Crew 1000, is that big enough? Continue reading, because we're going to continue our discussion about this amazing piece of side-by-side engineering. At the end, you should be able to determine for yourself if the Polaris Ranger Crew is the right rig for you and your UTV desires.
Pros Of The Polaris Ranger Crew
With large bench seats, ample in-cab space, a big bed, and the power to carry as well as haul a tremendous amount of weight, there are few occasions where you'll be overloaded or need to take extra trips when you've got a Polaris Ranger Crew. After all, if you only wanted to haul two people, you may as well have gotten a four-wheeler.
Compared to other UTVs and side-by-sides, Polaris machines produce way less vibration and noise. Add a full Polaris Ranger Crew hard cab enclosure kit into the mix, and things get even quieter in the cabin of the Ranger Crew. The legroom and overall space availability within the inside of the Crew-Cab Ranger is crazy to say the least, and plenty big enough for the whole family plus gear, food, and supplies. And with the right Polaris Ranger Crew coolers, Polaris Ranger Crew storage racks, and Polaris Ranger Crew pull-behind utility trailers, you can transport almost anything virtually anywhere in your extended long-cab 4x4.
Hunting is another area where the Polaris Ranger Crew excels, as it is tough, there's room for hunting gear, and the exhaust as well as the engine are both very quiet. The ride and power steering is amazing in the Crew compared to other Rangers and side-by-side brands, and most of the riders you'll talk to couldn't imagine owning anything but a Crew-Cab Polaris Ranger. If you can afford either the High Lifter or NorthStar edition of the Polaris Ranger Crew, it's hard to imagine that you'll ever regret owning it.
The 2020 Ranger Crew 1000 XP Northstar with ride command is among the top favorites among riders we've polled It offers a great smooth ride, and is a complete beast when it comes to pulling. With air conditioning, heat, and a window washer, most riders who own this machine wouldn't trade it for anything.
Not only does the Polaris Ranger Crew offer the capacity to seat more people (a fact that is great for job sites, moving crews, and recreational family riders) but the seats are larger in the Crew as well. Add the fact that they have storage compartments under the front seats and you've got yourself a vehicle that can be loaded to the brim with cargo, gear, tools, and spare parts. Furthermore, the resale value of the Polaris Ranger Crew is second to none. If your need a change or you're wanting to upgrade to the latest model year of the Polaris Ranger Crew, you'll have no problem selling your old one. One thing to consider, however, is the resale value of the aftermarket accessories you install. If you put on rock-crawling tires and alter the suspension to be better for technical riding applications, you're eliminating a large chuck of potential Ranger owners who aren't after a rock crawling machine. And the same goes for mud-related accessories, hunting-related accessories, and farm-related accessories. There is a reason, after all, why stock Polaris Ranger models are so basic.
Cons Of The Polaris Ranger Crew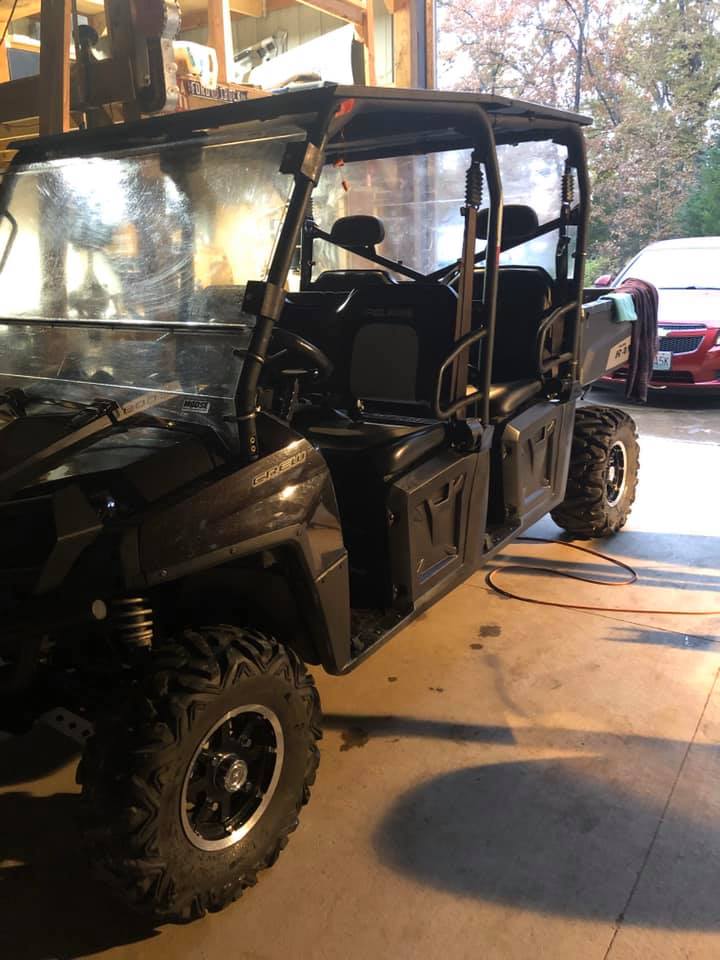 Yes there's a lot to praise about the Polaris Ranger Crew. But nothing in life is perfect, and such is the case with the Crew. One obvious feature of the Crew is it's large size, which is great if you need the added cargo capacity, but not so great in tight trails. The turning radius isn't great in the Crew, which makes it a lot harder to turn around in tight spaces. Additionally, some of the older Crew models might feel a little underpowered, and the suspension on the Crew is stiffer than other Ranger models. Add to this the fact that the seats are straight up and don't recline, and your back might be a little sore after a long day in the field, at the track, or on the trail.
Another con of the Polaris Ranger Crew is the net doors that come stock on the machine. If you add aftermarket doors and a roof to the total cost of the vehicle, it becomes more expensive than the factory sticker price. But if you install a soft cab and make your own roof, you can save a bit of money by cutting costs on the enclosure and top.
With regards to clutching, the Ranger Crew — and most other Rangers for that matter — clutch and transmission leave a bit of room for improvement. Putting these machines in gear is more difficult than, say, a mid-2000 Rhino, where when you put it in gear, you knew it was in sync. However, these issues can be mitigated with a Polaris Ranger Crew clutch kit — like the Gilomen clutch kit and tune.
Closing Remarks On The Polaris Ranger Crew
Some regard the Ranger as a work side-by-side, meant for tooling around on the farm, in the woods, and made to get things done. They can haul mulch, drag trees, carry gravel, and transport you to your hunting blind. People who express this opinion would argue that if you want to rock climb, mud bog, or jump hills, you should purchase something suited for that type of riding. However, with the right aftermarket modifications, the Polaris Ranger Crew can be whatever kind of side-by-side you want it to be.
The Polaris Ranger is built off of the 900S RZR, with the same motor and transmission. So just because the plastic body panels are different, doesn't mean it's not to be played with. Anything can be made to play, and anything can be made or work, including the Crew-size Polaris Ranger. After doing some improvements such as adding a Giloman clutch, SuperATV track bars, etc. you'll find that the Crew has plenty of power and is more than capable of accomplishing most tasks. Sure it might turn like a school bus, but most people are more than willing to have a larger turning radius if it means gaining the many other benefits that a Polaris Ranger Crew provides!