Easy Polaris Ranger Suspension Mods that Increase Performance!
Apr 10th 2022
As customizable as side-by-sides are, so many variables come into play when talking about the suspension performance of your Polaris Ranger.
Depending on how you use your Ranger, the stock springs, shocks and suspension may not be able to perform at the level you want. Not only can this mean your ride could be less enjoyable, but having the wrong suspension for your specific use case can prove to be detrimental to the UTV itself.
Today we will talk about the essential parts of your suspension that can make or break its performance:
Shocks and Springs
Portal Gear Lifts
Adjusting Your Suspension
Now let's jump right in, shall we?
Polaris Ranger Shocks and Springs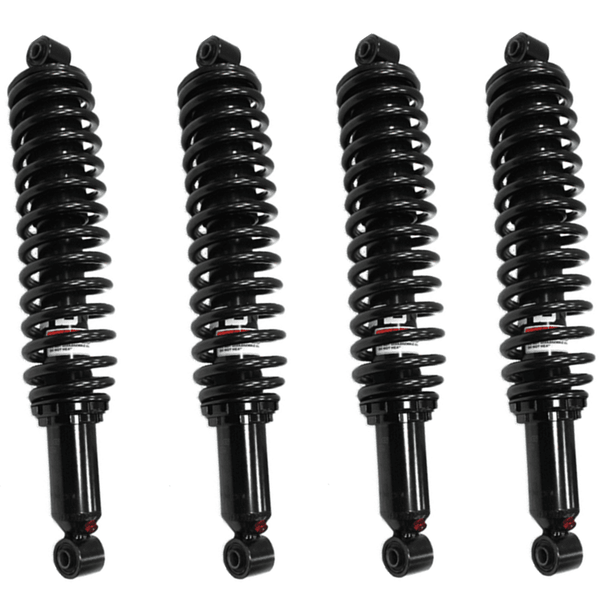 When it comes to your Polaris Ranger Shocks and Springs, information overload is all too real. Thankfully, this topic may be more simple than you think.
Replacement shocks can come in many forms, whether they are gas filled or oil filled. A set of four heavy duty gas shocks won't be your cheapest option, but they will definitively get the job done. Replacing your worn out stock shocks with a set like the Heavy Duty Gas Shocks by Bronco means you can go back to enjoying the trails without the bigger bumps nearly breaking your back!
If a complete set of shocks is more breaking the bank than a necessity, then maybe replacing the stock Polaris Ranger Springs will be a better option for you.
A set of Front Lift Springs by High Lifter will give you drastically improved performance over the stock springs in regards to ride comfort, and handling heavier loads in your Ranger. We just wouldn't necessarily recommend only replacing the springs if you are someone who enjoys launching your Ranger off of jumps at top speed on a regular basis.
Portal Gear Lifts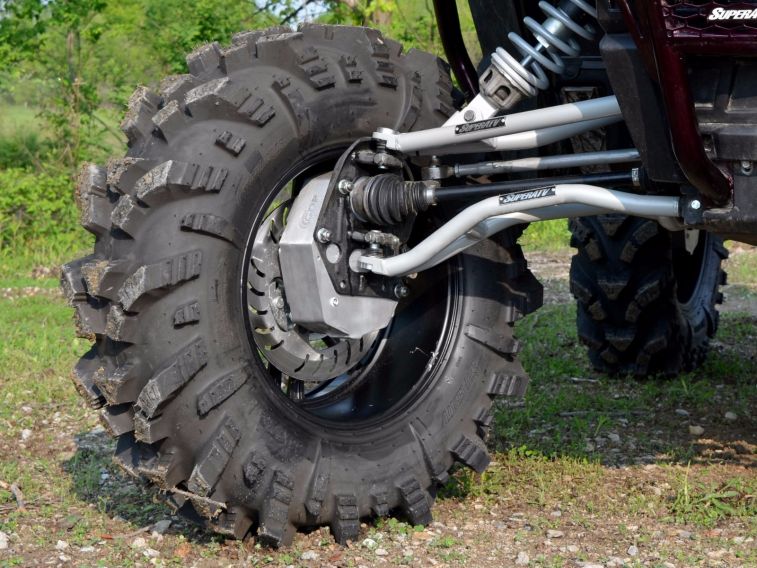 A great addition to your Ranger suspension is almost always a set of Polaris Ranger Portal Gear Lifts.
But what does a Portal Gear Lift do?
Well, you have likely seen plenty of Rangers with a ton of suspension modifications, right?
Lift kits, replacement axles, especially long-travel axles and huge Polaris Ranger A-Arm kits can be found as some of the most popular modifications to the side-by-side. All of which also allow owners to then add larger, wider and beefier Polaris Ranger tires to their build.
This all introduces an issue of the UTV not having enough torque to spin those larger wheels and tires with the same force that they had before you added all of these performance parts.
Enter the Portal Gear Lift: these little wonders attach to the UTV and not only give it an instant lift in ground clearance and width allowing it to fit the wider tires, but they also use special gear ratios to balance out the loss of torque from using all of these components that are so much larger than the stock ones.
In short, if you are going to upgrade your tires, axles and A-Arms, you had better seriously consider adding portal gear lifts to that list for your build!
Now that you have your new shocks or springs, and maybe even new axles, a-arms and portal gear lifts, you should be good to go, right?
Not quite…
Should you adjust the Polaris Ranger Suspension?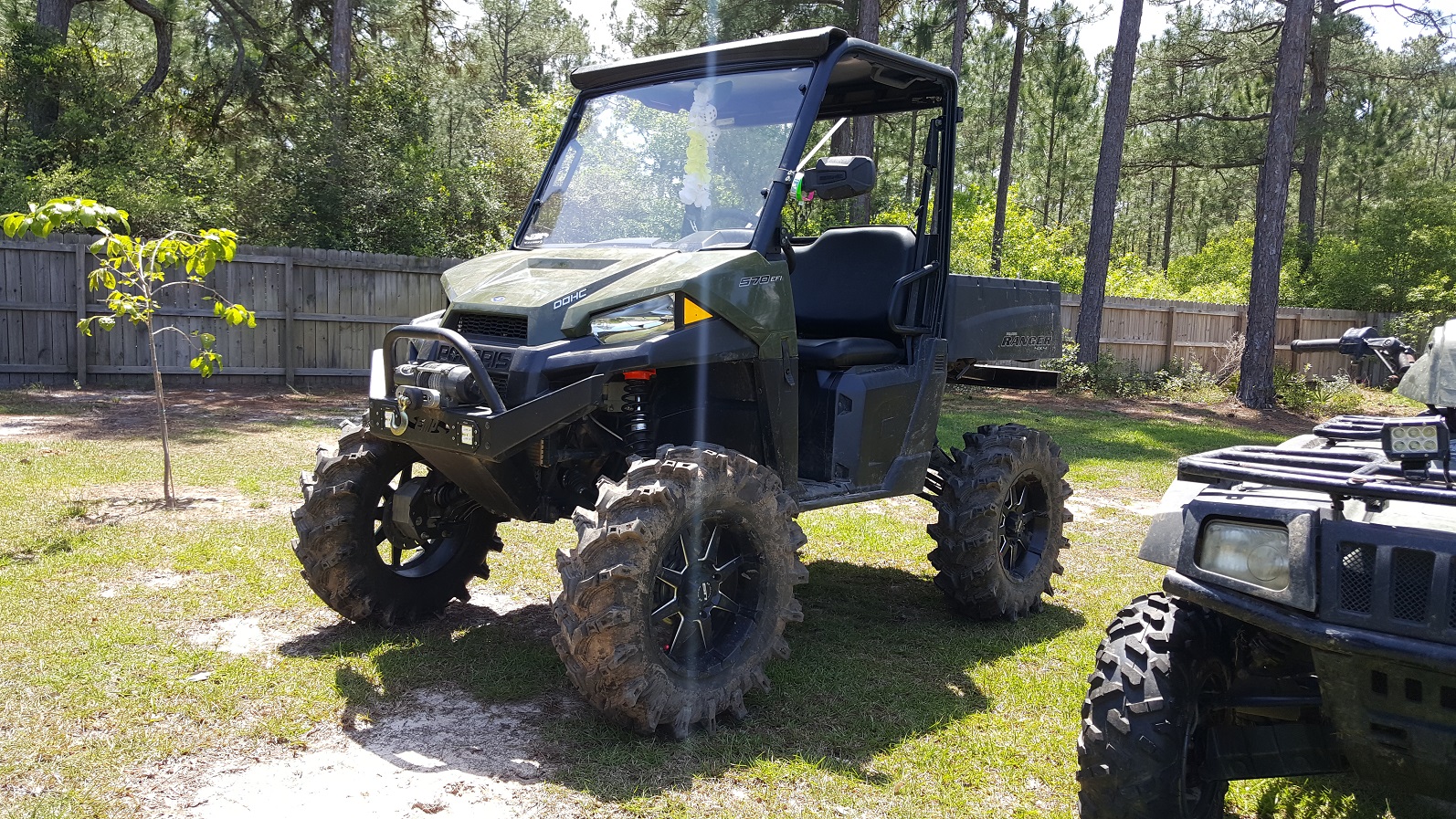 Your Polaris Ranger is unique.
Sure, there are plenty more like it. But not every owner is going to use it the same as you would, right?
Maybe you only ride yours over dunes and soft beach sand. Or maybe you are a strict trail rider, flying down forest trails and over BLM land. The point being, the suspension needs for both of those scenarios will be quite a bit different from each other.
Your Polaris Ranger shocks will likely need to be adjusted based on the terrain you ride over the most.
Most shops can do this for you, but with a little research online and the right tools, you can definitely do it on your own. Adjusting the shock absorbers and springs to optimize them for where you'll be riding and what you'll be riding on will be of the utmost importance!
All it will take is one ride over a solid, bumpy trail with your shocks heigh set to low sending you to the chiropractor to ensure you never leave the settings stock again.
What I'm getting at here, is that adjusting your suspension to meet the needs of the terrain you'll be riding on the most can be an absolute game changer in ride comfort. Not to mention getting more longevity out of many parts on your Polaris Ranger since they won't be literally shaken to pieces over time from a poorly setup suspension!