Tips And Tricks For Hauling, Trailering, And Towing Your Polaris Ranger
Jan 5th 2020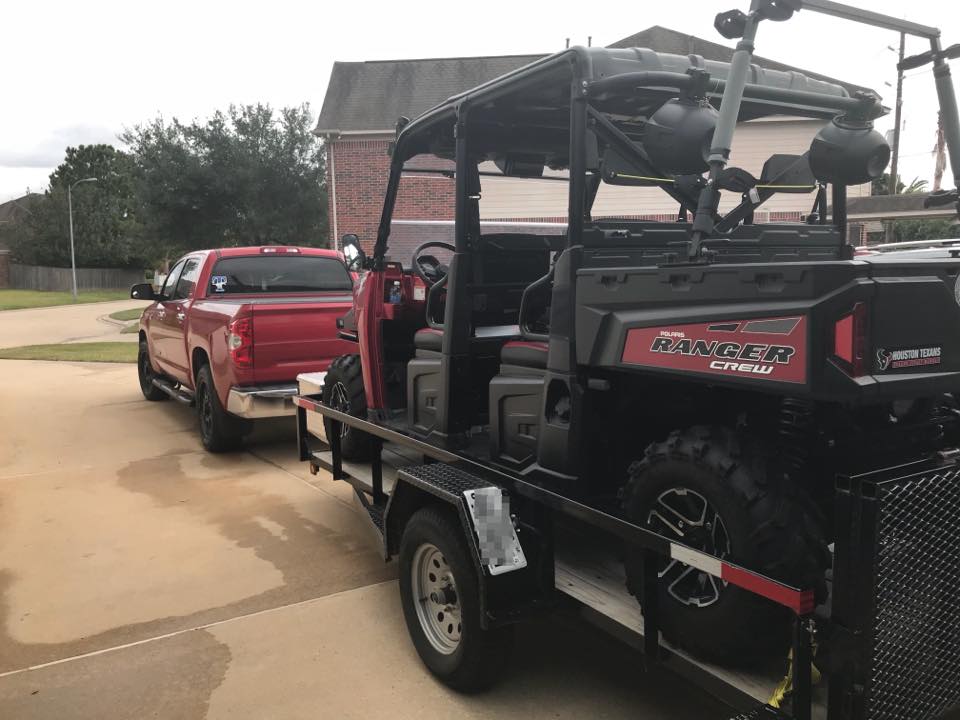 For many Polaris Ranger owners, choosing the right trailer consumes almost as much time, consideration, and deliberation as choosing the side-by-side itself. Price is obviously a factor. And wile UTV-specific trailers can be bought that are ride-ready, they are also a tad pricey if you buy them new. Add enclosed trailer options, single-axle trailers, dual-axle trailers, boat trailers to the mix -- as well as the various lengths and connection types within each category -- and it's little wonder why riders often experience purchase anxiety when looking at trailers for Polaris Ranger transport and hauling purposes. Luckily for riders that already own trailers, with a little retrofitting and the right load placement, almost any adequately-sized trailer can be modified to hold, haul, and transport a two-seater or Crew cab Polaris Ranger.
Using Non-UTV-Specific Trailers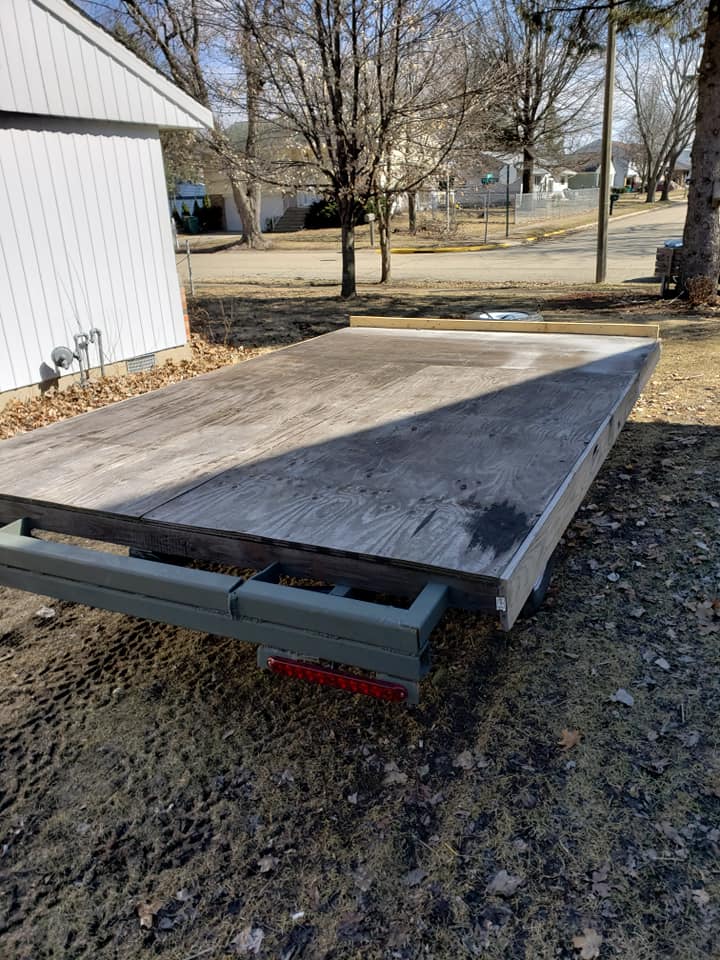 Depending on where you're located, you can probably find and convert an old boat trailer to haul your Polaris Ranger, Polaris Ranger 570, or Polaris Ranger 800. This is all fine and dandy, but if you're hauling your Ranger on a modified boat trailer, be cognizant of the tongue weight. Most boat trailers have the axel toward the rear. If you are not careful when transporting your Polaris Ranger, you might end up with the bike placed too far forward, which results in there being too much weight on the front part of the trailer and the truck's hitch receiver. If the weight is distributed too far forward, the hitch of your towing vehicle will be carrying the majority of the weight instead of the trailer's axle. The acceptable tongue weight for any trailer is somewhere between nine and fifteen percent of the gross trailer weight, so consider that when conducting any Polaris Ranger transport operation.
The problem with boat trailers and other non-UTV-specific trailers is that they usually lack the requisite hooks and tie-down rings to keep the vehicle stable and in place. If you know your way around some basic power tools, you can bolt D-rings through the floor of your trailer, making sure that you use a large enough plate/washer on the underside if you're not attaching to metal. If you're installing D-rings into wood, you should also keep a close eye on the areas near the tie downs to identify any rot, lest you lose your Ranger due to rotten wood on your trailer.
You can source your D-rings from any hardware outfit or sporting goods store. Mount a thin steel plate on the bottom side of your trailer deck and bolt the d-rings to that. The best part about installing your own tie-down anchors is that you can place them anywhere you want along the deck of your Polaris Ranger trailer. Some might tell you to use eye bolts. However not only are eye bolts a pain because they extend further than D-rings, but they can also break under dynamic stress (something you don't want to happen when barreling down a bumpy highway).
Many owners of non-UTV-specific trailers use wheel tie downs to secure their Rangers firmly while in tow. Simply drill holes for eye bolts just in front of and just behind each tire. Strap each tire down tight and your machine won't move. When you arrive at your riding destination, pull your hubs off, clean and inspect your wheel bearings, grease them up if they are good using a Polaris Ranger wheel bearing greaser tool, get replacement wheel bearings if they are bad, and you're ready to go ride! You can also get an e-track to bolt to your deck, and there are straps with e-tracks clips sewn onto them for easy attachment. This is a great option for those who need to balance their trailer load just right for extended periods of time or high-speed highway jaunts.
On a similar vein, you can also install some semi-flush rings like the ones they put on the floors of enclosed trailers. Running over eye bolts or D-rings may not be any worse for your UTV tires than running over rocks, sticks, and stumps at high rates of speed on the trail. But breaking, bending, or damaging a tie-down bolt, ring, or anchor is not something that should be overlooked.
Hauling, Trailering, and Polaris Ranger Transport Tips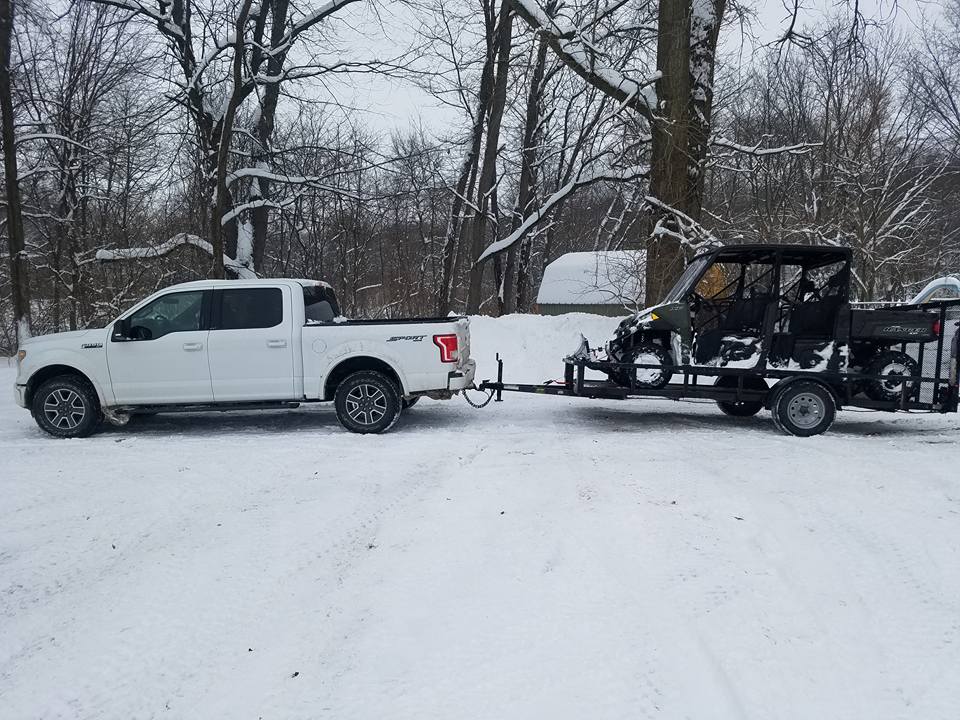 No matter what type of trailer you're running for Polaris Ranger transport, never ever use your vehicle's winch to tie it down while in tow, as this is the number-one way to damage your winch. The constant jolting -- especially with the long travel suspension -- will break teeth in the gear drives of the winch. Any winch repair center will be quick to tell you the same, so avoid winch damage and just don't use it for security during transit.
To maintain proper weight distribution, it might be prudent to back your Ranger onto your Polaris Ranger trailer. Not only will this will give you more tongue weight because the motor is in rear of the Ranger, but your trailer will also tow better and will be much more stable at higher speeds. To do this with greater ease, it might be beneficial to install some UTV rear view mirrors.
When it comes to checking your trailer setup, you don't have to stop and eye things over every half hour if you know that your setup is secure -- and if you followed our Polaris Ranger transport guide. You also shouldn't discount the benefits of a couple of inches of drop on the hitch. Ask any experienced hauler and they'll tell you that a drop hitch works wonders. They allow you to level out your trailer when in tow and let it ride lower as well. Whether your trailer is empty or loaded down to the max, it will ride well regardless.