The Best Side-By-Side Tire And Wheel Setups For The Polaris Ranger Lineup
Jul 29th 2020
There are many modifications you can make to your side-by-side to make it quicker, more stable, and perform better in particular situations. And regardless of whether you are a 2020 Polaris Ranger Mid-Size 500 owner who likes to hit the dunes in the evenings after work, or a recreational Polaris Ranger Crew 1000 owner who goes on weekend rides with the family, everyone can benefit in one way or another from aftermarket Polaris Ranger wheels and tires. However, a Polaris Ranger wheel and tire kit that makes one rider excel in the mud, could be deleterious for another rider who primarily rides light trails and dusty backroads. So just because your buddy swears by the 8" Portals and 37" BKT tires on his Ranger, this setup isn't necessarily optimal for every kind of riding.
To help you get a better feel for which Polaris Ranger rims and tires work best for which situations, we've put together this informative blog about the best side-by-side tire and wheel setups for the Polaris Ranger lineup. By the end, you should have a better understanding of your own personal needs as well as the offerings available from both Polaris as well as the many aftermarket side-by-side wheel and tire manufacturers out there.
Directional Polaris Ranger Tires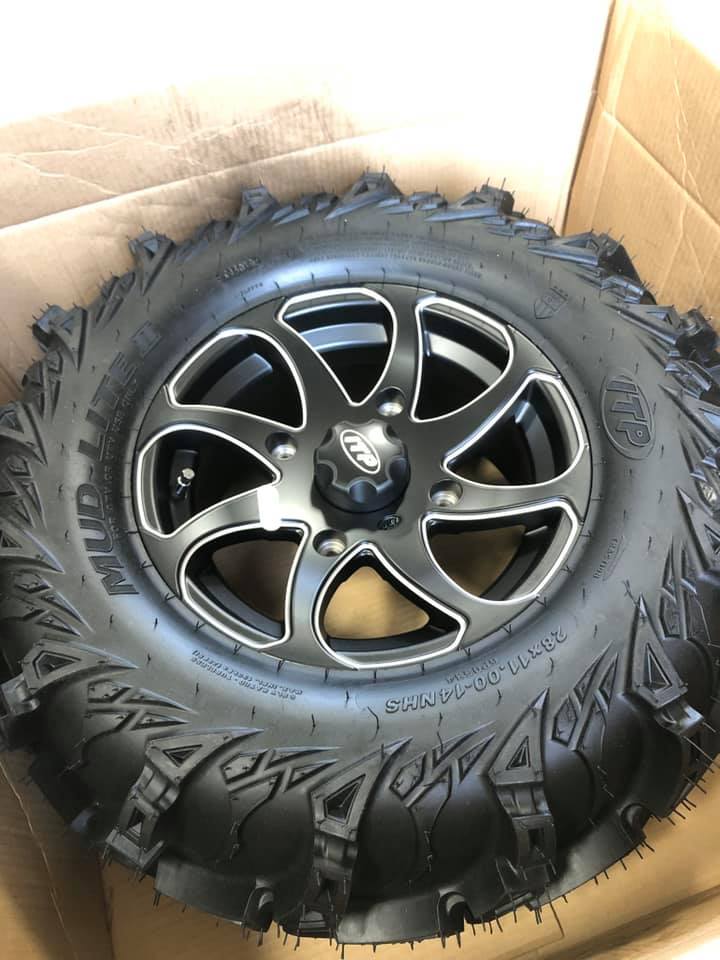 Some Polaris Ranger owners who battle extreme weather and terrain conditions like to use directional Polaris Ranger tires and wheels. Because the tread patterns on directional side-by-side tires are generally v-shaped, they are optimized to generate exceptional grip in the forward direction. Riders who plow snow or ride in wet and muddy conditions often opt for directional winter tires or all-season tires for their Polaris Ranger. And depending on the thickness of the tread, directional Polaris Ranger street tires will typically provide a quieter and smoother ride on gravel roads and blacktop.
When it comes to directional side-by-side tires, it's not all rainbows and sunshine. There are a few caveats with directional tires that put them out of the running for some UTV owners. Although you can swap directional tires from front to back, you can't swap them from side to side as you would when rotating non-directional tires. As such, you may experience unequal wear across the tread. Additionally, because directional tires grip best when spinning in the forward direction, the grip they provide when reversing is lackluster. If performance gains on wet or slippery ground is what you seek, directional tires could suit you well. But if you're more concerned about longevity and durability, there are other options which stand out in that field.
The Difference Between Polaris Ranger Tire Compounds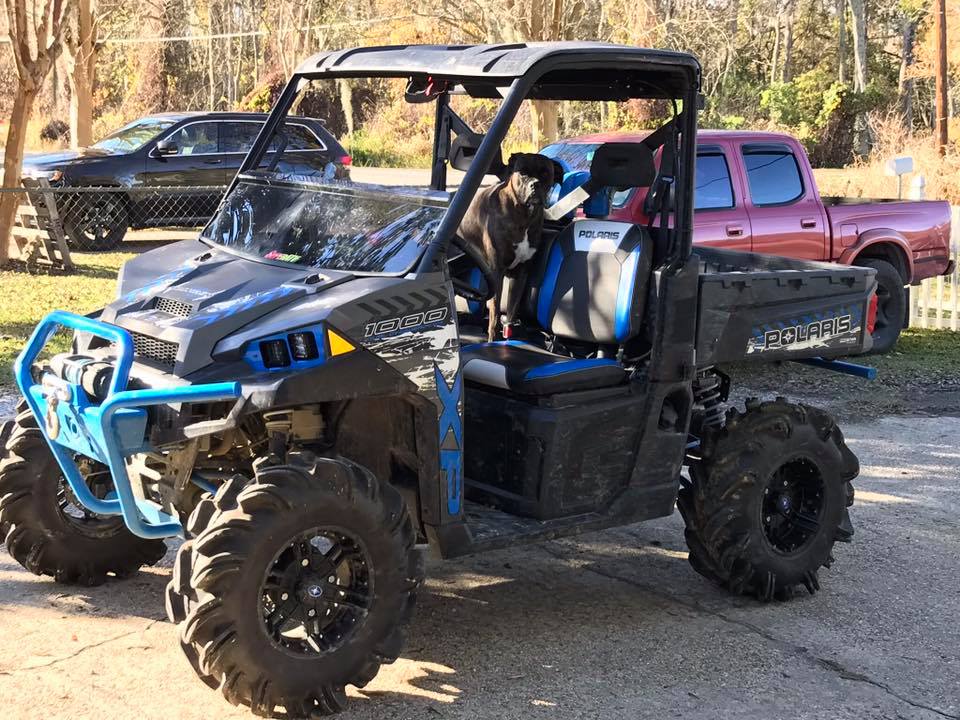 The delicate balance between grip and durability is something one must consider when approaching Polaris Ranger tires. The most durable side-by-side tiers are generally those with big lugs, which last longer simply because there's more material there to begin with. But in addition to the amount of tread, the compound your side-by-side tires are constructed from will also affect their durability -- as well as their grip and overall performance.
Softer side-by-side tire compounds deform more and flex around smaller irregularities in the ground, thus increasing friction and thereby improving traction. This is advantageous when cornering at high speeds, when rock crawling, and when hill climbing. If maximizing grip is your aim, softer side-by-side tire compounds will oblige. With better grip, however, comes more friction. And with more friction comes added heat, which amplifies tire wear and tread degradation. Furthermore, when riding over jagged granite and limestone, sharp logs, and pointy branches, gummy side-by-side tires are more likely to get cut up, scraped, and punctured. So if you ride on such terrain or if you use your rig for work-related purposes, running a hard-compound Polaris Ranger tire that can stand the test of time might be in your best interest.
The Hardest-Working Polaris Ranger Tire And Rim Setups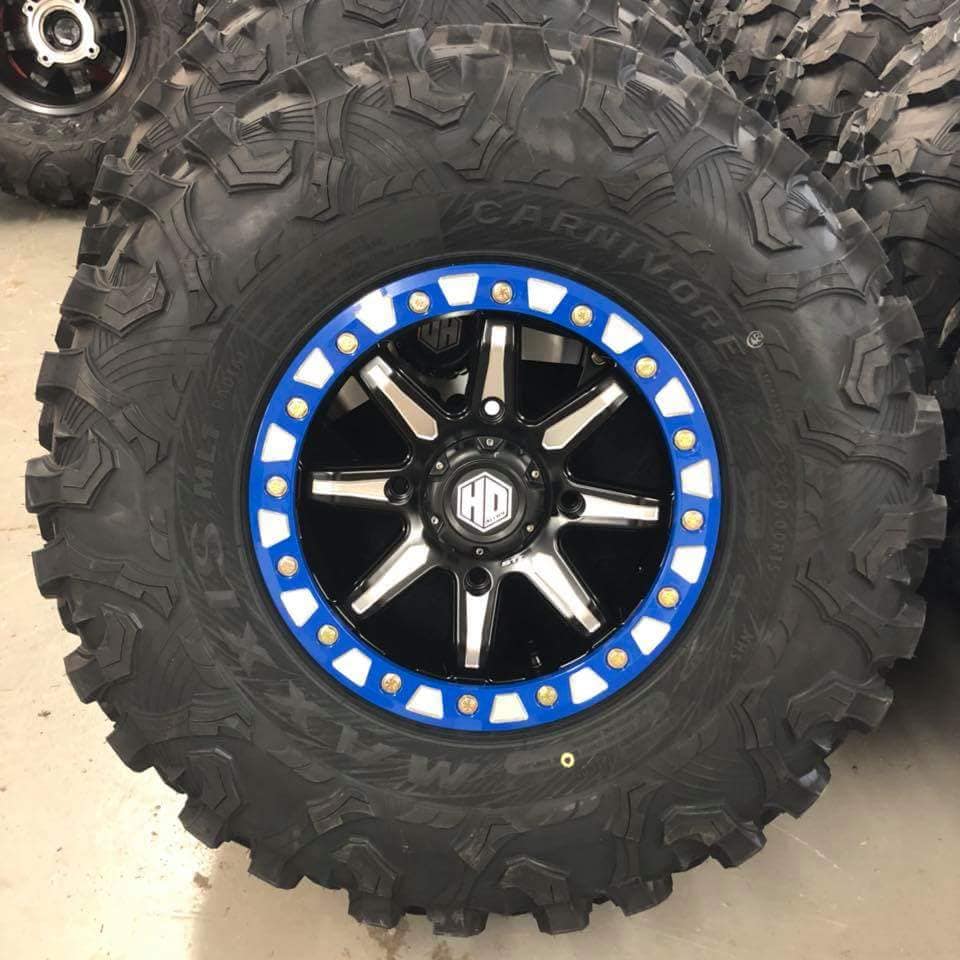 If you use your side-by-side for yard work, hunting excursions, or to conduct daily chores around the farm, you're probably the type of person who values hard work. And for those who log double-digit hours day in and day out, having a Polaris Ranger tire and rim set that can meet or exceed these demands is important. To both handle hefty loads and protect the inner tube of the tire from punctures, UTV tires have been made with increasingly more rubber / cord layers (called plies). The higher the ply number, the thicker the tire is. And with more thickness comes a greater capability to handle heavier loads.
The 10-ply Gripper tire set by Fuel Off-Road for the Polaris Ranger is about as rugged as they come, however the X Comp ATR tire kit by STI Powersports and the Carnivore tire set by Maxxis are also up there in terms of strength. And while many multi-use riders like to go with SuperATV's Intimidator tires, these might be a little excessive for those who use their side-by-sides for work purposes. It should also be noted that with large tires, the potential for rubbing at stock height will increase. Things like forward a-arms can be installed, but even with such modifications your tires might still rub on sharp turns if they're over 30".
A Polaris Ranger Wheel And Rim Overview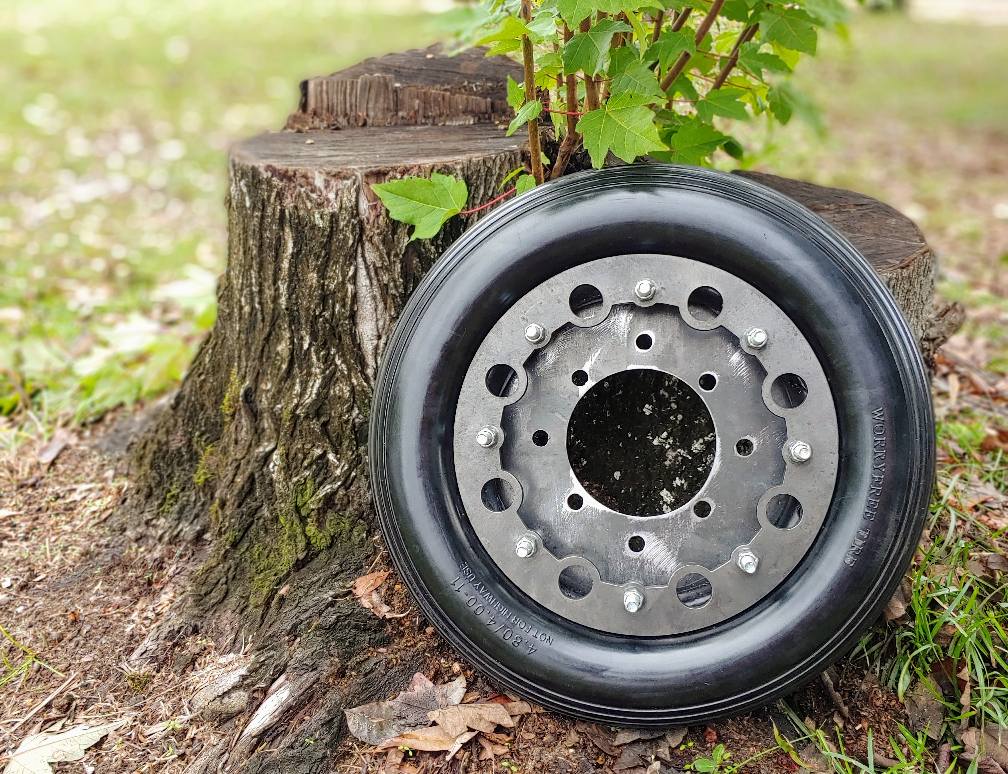 Riders often talk about side-by-side tires without considering Polaris Ranger wheels. Just because the wheel doesn't make contact with the ground, doesn't mean that its role is less significant. Modifications like portals might be incompatible with 12" Polaris Ranger rims, and many tires work better with a specific type of wheel. The wheel offset and backspacing you run can alter the stance of your side-by-side, and the material your wheels are made from will either add to or subtract from your rig's overall unsprung weight. And depending on how hard you ride, specific Polaris Ranger wheels and rims can help prolong the life of your wheel bearings.
Companies like MSA, KMC Wheels, STI, and handful of others make both aluminum and steel wheels for the Polaris Ranger to meet any need. If your Ranger is a work rig or booze cruiser, some strong and sturdy steel side-by-side wheels will get the job done. But if you're looking for Polaris Ranger wheels and rims with a few more style points, a set of aluminum chrome or matte black rims can help to amply your machine's wrap or paint job significantly.
Finishing Thoughts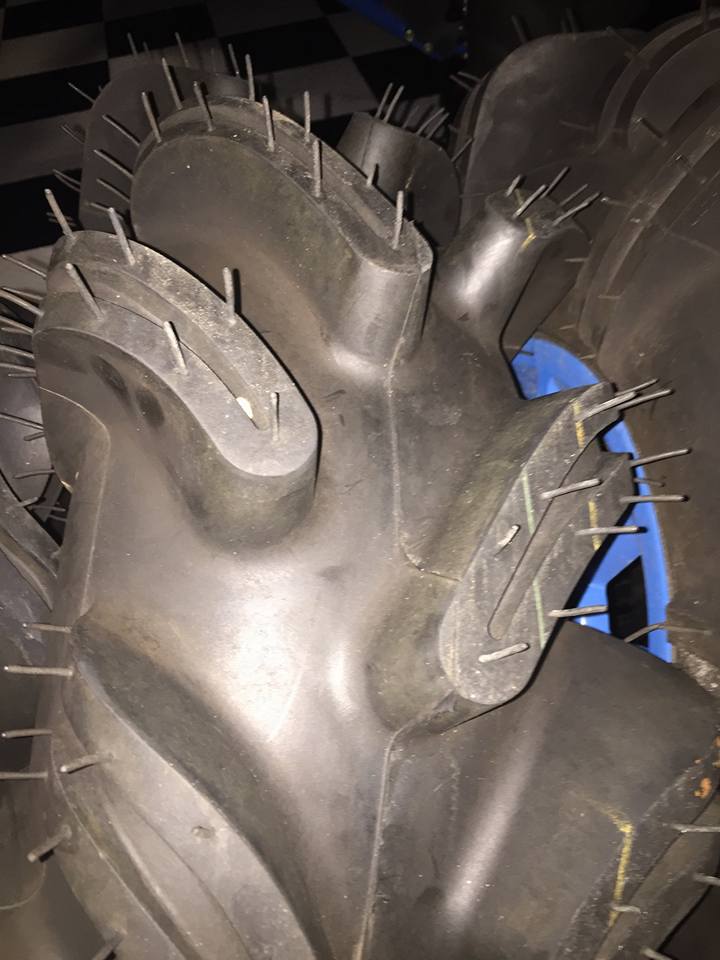 Asking "What is the best side-by-side tire and wheel setup?" is like asking what the best automobile is. The answers you get will be inconsistent, and they will vary depending on who you ask. You'll get people who say Chevy Duramax trucks with Allison Transmissions are the best, while others will say that you can't beat a Dodge Cummins for towing. If the metric in question is top speed, a supercar would be the answer. And if the metric in question is eco-friendliness, Tesla might be the best solution.
The same reasoning can be applied to Polaris Ranger tires and wheels. Some riders might want a set of side-by-side rims and tires for maximum grip, while others would prefer something for a smooth ride. And for those that want a tire and rim setup to perform well on a wide spectrum of conditions and terrain types, it might be worthwhile to sacrifice a bit of effectiveness here or there to gain above-average performance on all ground types with an all-terrain Polaris Ranger tire and wheel kit. Whichever camp you fall into, however, there are solutions out there to fulfill your every need. And at Everything Polaris Ranger, we make obtaining said solutions as easy ABC!