The Best Polaris Ranger Coolers, Cooler Mounts, And Cooler Brackets
Mar 22nd 2022
With summer and warmer weather inevitably on its way, one thing is for certain: it's time to bust out your Polaris Ranger!
And whether you're planning to hit the trails, get some work done around the property, or take your rig camping, a cooler of some sort is going to be a necessity.
So lets make sure you're prepared for the warmer months, and cover a list of Polaris Ranger coolers and potential cooler setups for the Polaris Ranger Mid-Size, Full-Size and Crew!
Types of Polaris Ranger Coolers
When it comes to hauling a cooler around on or in your Polaris Ranger, it is important to think passed the generic $20 models from the supermarket. And definitely stay away from the $5 styrofoam models from the gas station.
Those types of coolers, while useful when in a bind, simply won't provide the same high-level cooling efficiency as the models we are about to discuss.
Coolers like the Polaris Ranger 20QT Super-Cooler by Kolpin Powersports are night-and-day when compared to your average beach trip cooler. With the ability to retain ice for up to 5 days, this bad boy will keep your food, and more importantly beverages, cold for the duration of your weekend. And if the 20QT model is too small, they even have a 60QT model with enough room to feed an army.
Polaris Ranger Refrigerated Coolers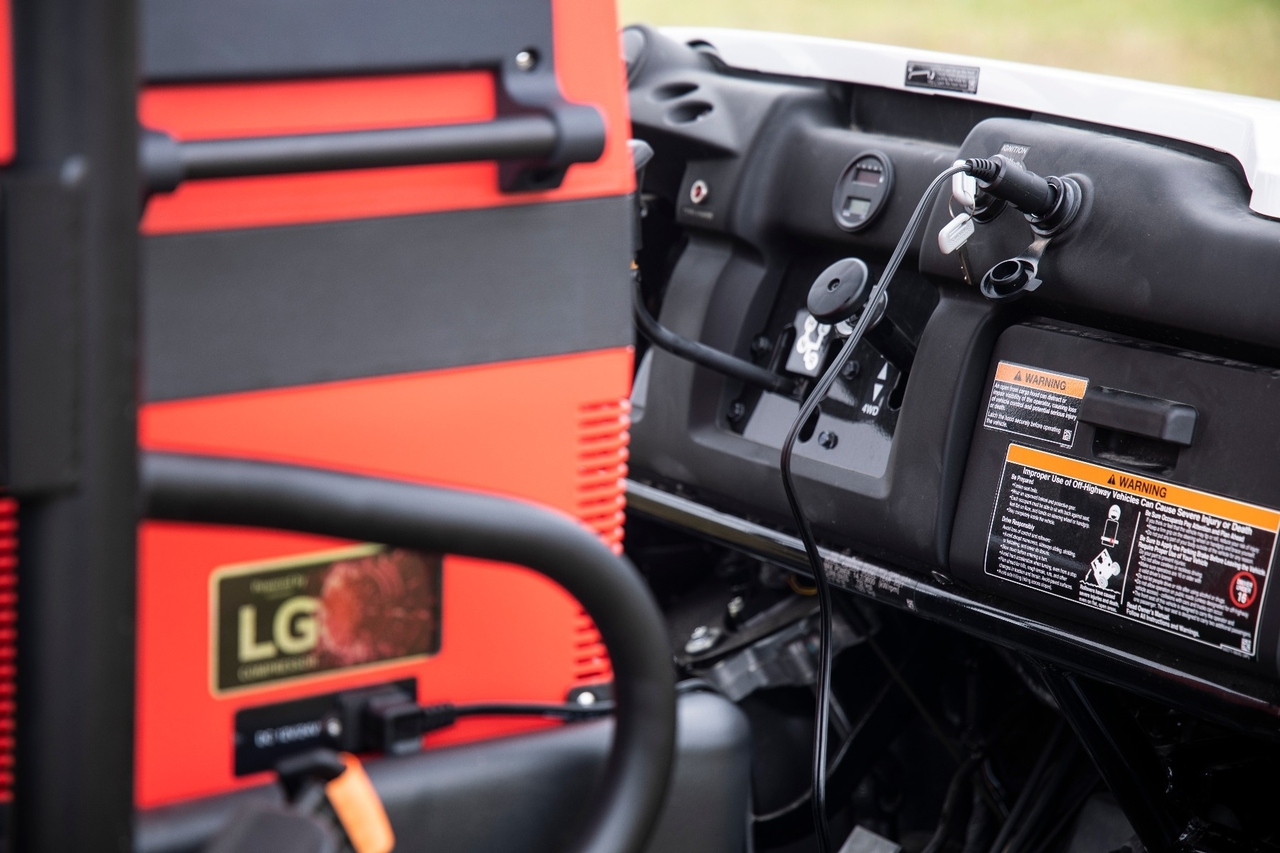 When the weekend trips start to turn into multi-week trips, you'll find yourself needing to level-up your cooler game.
Enter the Polaris Ranger 45L Portable Refrigerator/Electric Cooler by Rough Country. This cooler actually plugs into your Polaris Ranger electrical system.
Why? Well it is actually a very compact refrigerator as well as an insulated cooler all in one. By drawing from your UTV's battery when it needs to turn on and cool down again, this cooler can keep your groceries fresh for much longer than any normal cooler can.
We would, however add this precautionary statement: you may drain your battery using this fridge.
The stock Polaris Ranger battery is plenty to start the UTV reliably day in and day out. Starting the side-by-side, while also running a fridge and whatever electronics you have -- such as winches, light bars and audio systems -- is another challenge entirely.
Thankfully, a simple solution exists.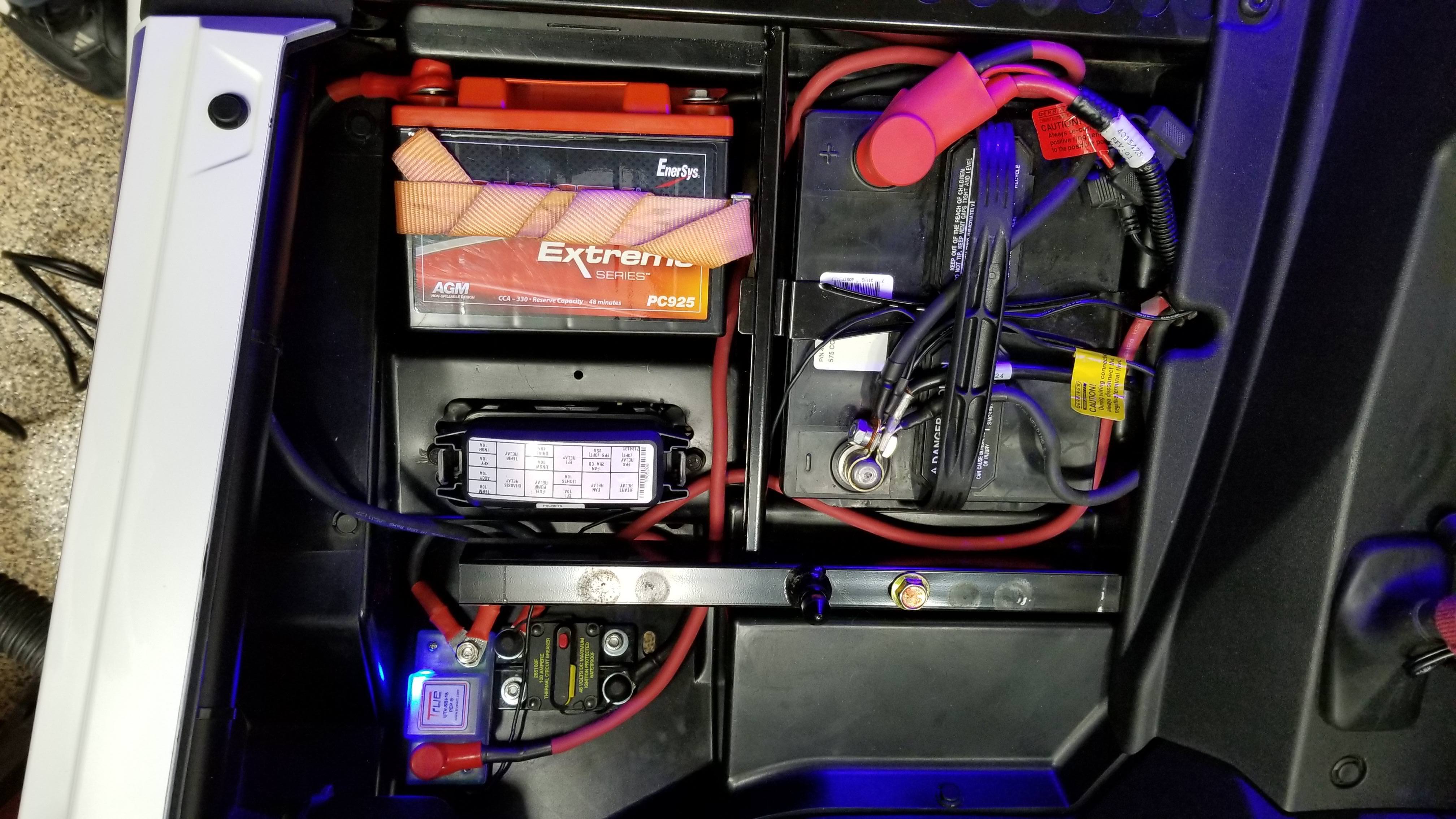 Aside from adding a more substantial replacement battery, you can alternatively install a Polaris Ranger dual battery kit. This kit allows you to dedicate the second battery to your auxiliary electronics, such as the refrigerated cooler. Doing so ensures that your primary battery remains untouched and fully charged so that you can always start up the UTV and get home with no issues.
Now that we have the more elaborate cooler solutions out of the way, let's talk about some simpler solutions.
Polaris Ranger Cooler Bags
If you're looking for a smaller, cheaper cooler that will get you through a few hours of work or a quick fishing trip, these are your best bet.
Models like the Polaris Ranger Cooler Roll Cage Bag by UTV Mountain strap directly to your roll cage so they're out of the way. They're well insulated, fit a surprising amount of food and drinks, and keep your snacks / libations cold all day long.
For simple day trips, they're a no-brainer, right?
Polaris Ranger Cooler Mounts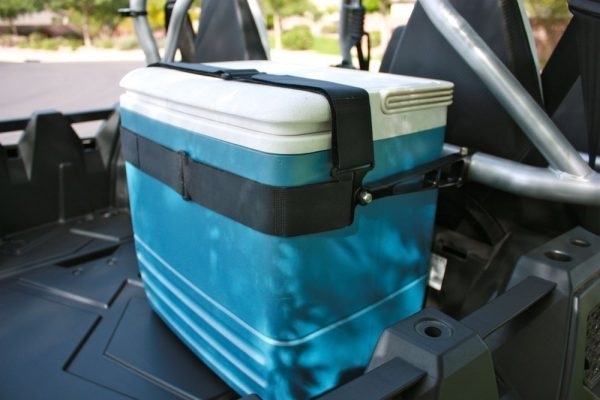 When you are about to embark on a long trip, the last thing you want to worry about is your cooler with all of your food and drinks for the weekend, shifting around, opening up, or tumbling out and onto the trail behind you.
The simplest solution is to strap down your cooler. But not just any tie-downs will secure a cooler properly. As such, products like the Polaris Ranger UTV Cooler Tie-Down Kit by Rough Country will sort you out well, ensuring that your food and beverages get to the camp site, job site, or fishing site unbothered.
A more solid solution exists as well, with the Polaris Ranger Cargo Mounting System For Coolers by Axia Alloys. This clamp-and-strap style cooler mount ensures a snug and safe fit for your coolers, and the best part is, it installs in no time at all!
Hopefully this list of Polaris Ranger Coolers and cooler setups will help jumpstart your riding season in style. Make sure to do your research to verify that the coolers you buy will fit your Ranger before getting out on the trails this season!