The Best Stereo Setups For The Polaris Ranger
Feb 9th 2020
So you want to be able to play some tunes in your rig and are curious about the various audio setups available for the Polaris Ranger. But with so many options out there, you might be wondering which system is best? Should you go with a simple soundbar, a stereo roof, a portable stereo? Will a golf cart radio be loud enough for use in the Ranger? Are there ways to sync up my music with my whip lights?
All these questions are valid, and by the end of this blog, you should have a better understanding of the options available for playing music in the Polaris Ranger. Whether you only need something simple to use for FM radio, or you're wanting to turn your Ranger into a concert stage on wheels, here are our top picks for the best stereo setups for the Polaris Ranger.
Wet Sounds Stereo Systems For The Polaris Ranger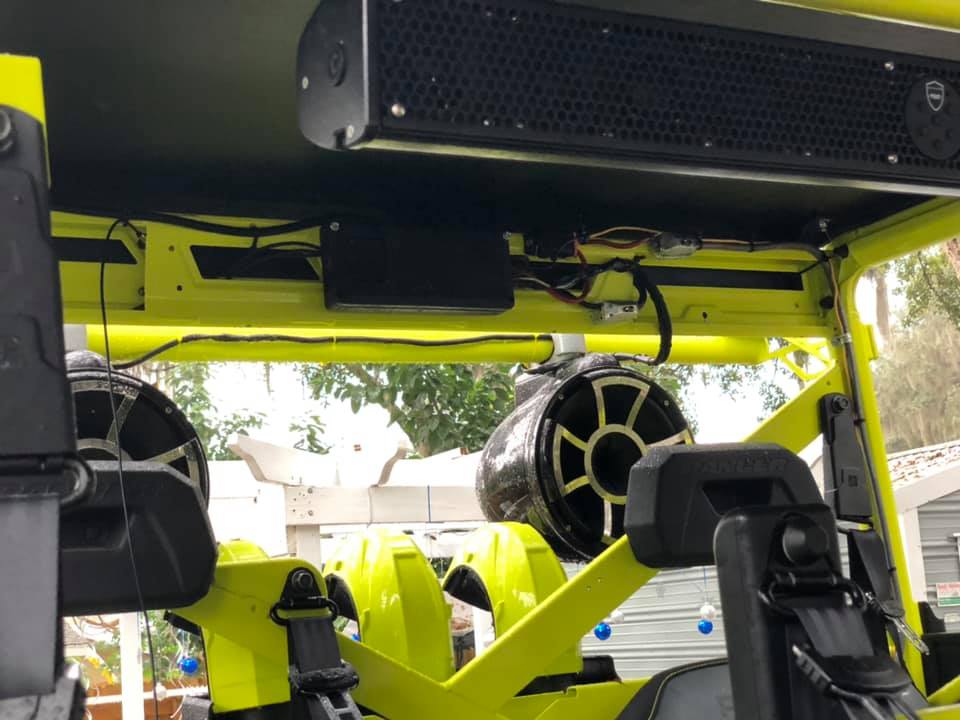 While Wet Sounds offers a variety of different audio products for both aquatic and terrestrial power-sport vehicles, many Polaris Ranger owners Wet Sounds systems and applaud their products. They offer individual stereo components such as coaxial speakers, tower speakers, amplifiers, and sub woofers, but also provide stereo kits with everything a Ranger owner needs to get their audio system up and bumping.
In addition to complete systems, they also offer soundbars, and the Wet Sounds Stealth-6 Ultra Soundbar is one that really blasts. It's not cheap by any means, but it's compact, sounds great, is bluetooth compatible, and comes with a two-year limited warranty. You might be able to fab up a homemade audio setup that is louder with a little fuller range of sound, but it will likely take up much more space. Furthermore, after you add up the price for speakers, an amp, a bluetooth box, and fiberglass, you'll be right around the same price as the Ultra 6 Wet Sounds Bar. For something that is simple to use and out of the way, any Wet Sounds soundbar will work.
With regards to their wake towers, the Wet Sounds 10s are very well built. Comparing these tower speakers with others — such as the ones by JL or Rockford — is like comparing apples and oranges, as instead of running a traditional tweeter or bullet style system, Wet Sounds uses a compression horn with a separate input, giving it a completely different sound than a tweeter-style tower. Furthermore, many riders like the wakes by Wet Sounds because the require very mild power inputs, yet still sound amazing.
Rockford Stereo Systems For The Polaris Ranger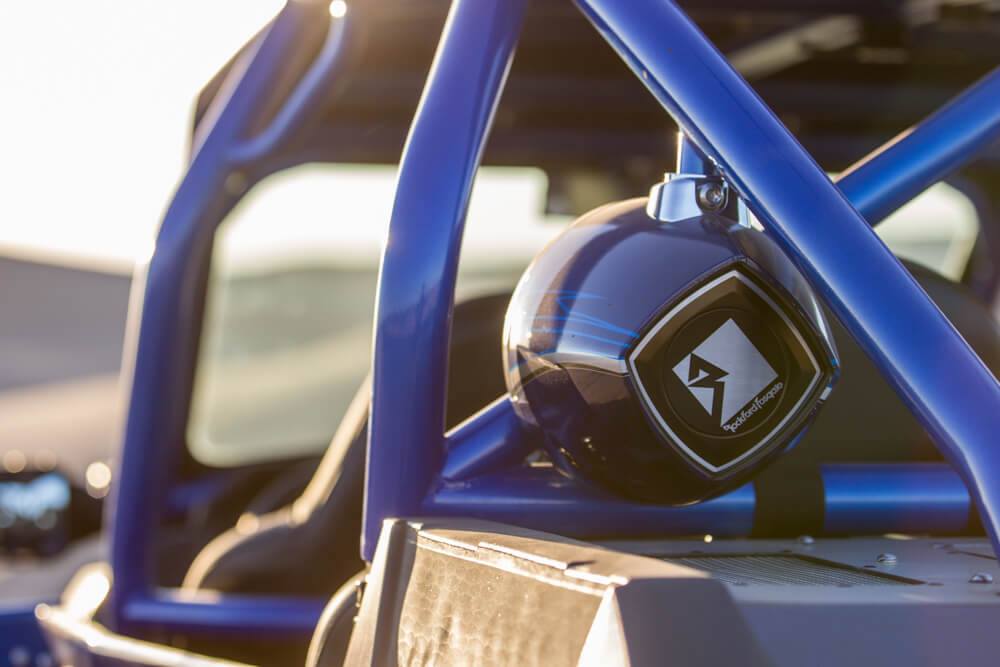 For a stereo system that is crystal clear, loud, and easy to install, Rockford is hands down one of the best stereo setups you can get for the Ranger. Whether it's a Rockford Fostgate Stage 1, 2, 3, or 4, you're sure to get a good sounding system with Rockford. Their kits come with tremendous head units as well as all the wiring needed, and you can choose which and how many pods, speakers, and kickers you want.
Their Punch Marine 6.5" Full-Range Speakers are night and day better than other speakers out there. They have better frequency response on the low end — down to 48hz — as well as a better magnet and tweeter. Additionally, they are made with centrex plastic and are both UV and water resistant.
While you cannot criticize the sound quality of a Rockford stereo system, some riders have found issues with their placement in the cab and the color of their speaker grills. However, if you're less concerned about speaker aesthetics and never use the footstep where some Rockford speakers can be installed, you won't be disappointed with a Rockford Fostgate stereo system.
ProBox Roof Stereos For The Polaris Ranger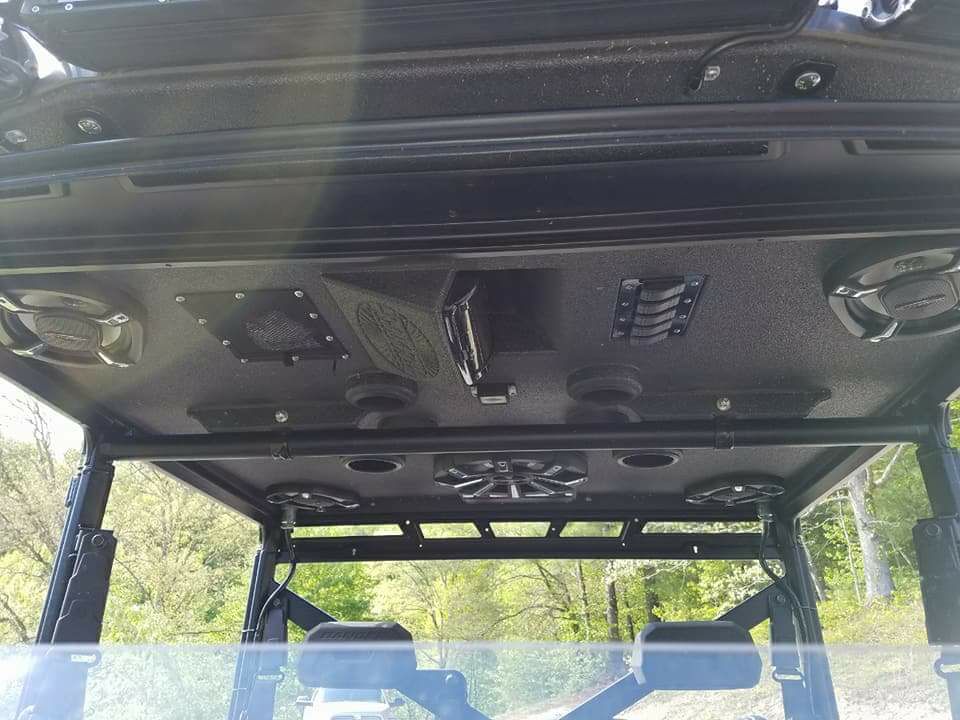 Feedback about the ProBox top stereo setup is hit and miss. Sure the ProBox roof stereo is placed out of the way and is loud enough to wake the dead, but this is definitely overkill for most riders. Plus, because they took away the radio receivers on their newer kits, tuning is difficult, and at loud volumes the audio becomes distorted. This is common with bluetooth controllers, at high volumes they tend to distort.
That being said, the ProBox roof radio is a popular option and doesn't require an alternator to be used in the Ranger. Although most agree that Wet Sounds have a slicker look, ProBox stereo setups offer better bass.
Honorable Mentions
In closing, here are a few soundbars that we couldn't, in good conscience, leave out. The Sound Storm btb6 is a quality sound system — not quite a soundbar but occupying a similar space. It hooks right up to your phone or MP3 player, sounds great, and is nice and loud. The VDP sound bar is another simple option. Although they're known for indoor sound systems, they also make a vehicle-specific sound bar that works great in the Polaris Ranger. And finally, MTX Audio, with their Mudsys 46" soundbar, is another Polaris Ranger sound system that is decent for the money and quite loud, sure to meet and exceed all your expectations!