Rough Country's Top 3 Most Popular Polaris Ranger Accessories
Oct 29th 2020
The off-road firm Rough Country has been around for almost fifty years, a feat that is nearly impossible for any company that delivers anything less than the best. Even riders that are unfamiliar with the brand cannot deny the quality of their products, which range from Polaris Ranger lift kits and winches to Polaris Ranger roofs and windshields. While popularity isn't perfectly correlated with quality, the opinions of the crowd do carry a significant amount of weight. Every dollar spent on an aftermarket Polaris Ranger accessory is tantamount to casting a vote for that accessory. And although market research and field testing are useful, nothing indicates quality products like the opinions of actual riders who put them to the test day in and day out. Because of this, we thought it would be useful to compile a list of the top three most popular Polaris Ranger accessories by Rough Country based on the buying patterns of you and your fellow riders.
Number 1: Rough Country's Scratch Resistant Rear Windshield For The Polaris Ranger 570/900/1000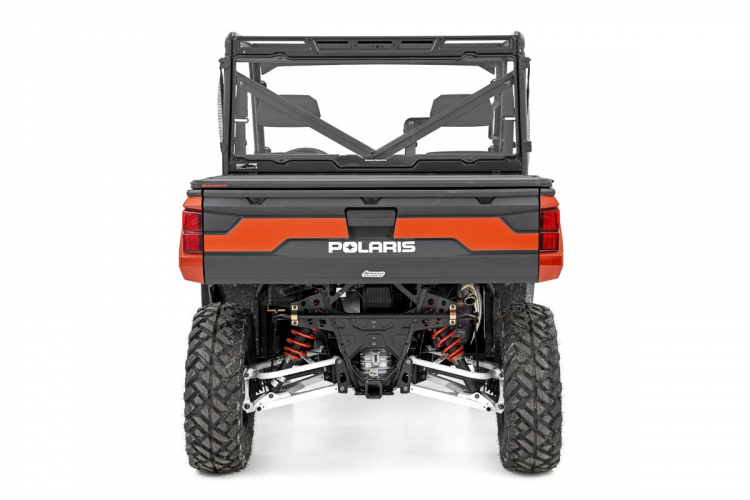 There are many benefits to be had from running a rear UTV windshield. Not only do they shield passengers from dust and flying debris, but they also keep the cabin warm in the winter and dry when it's raining. And although many of these benefits can be gained from soft rear windscreens, the advantages to running a hard Polaris Ranger rear windscreen like the ones by Rough Country shouldn't be overlooked.
For one, the weatherproof seal on Rough Country's rear windshield is precisely contoured to fit both the frame and roof of the Polaris Ranger. As a result, it traps in hot air better and keeps out nearly 100% of rainwater. Plus, unlike soft rear windscreens, the Rough Country rear windshield for the Polaris Ranger won't flap around, shake, or vibrate. And because it is built with a hard-coated finish on both sides, it won't hinder your rearward visibility by developing scuffs, scrapes, and micro-scratches.
Number 2: Rough Country's Scratch Resistant Front Windshield For The Polaris Ranger XP 900 / XP 1000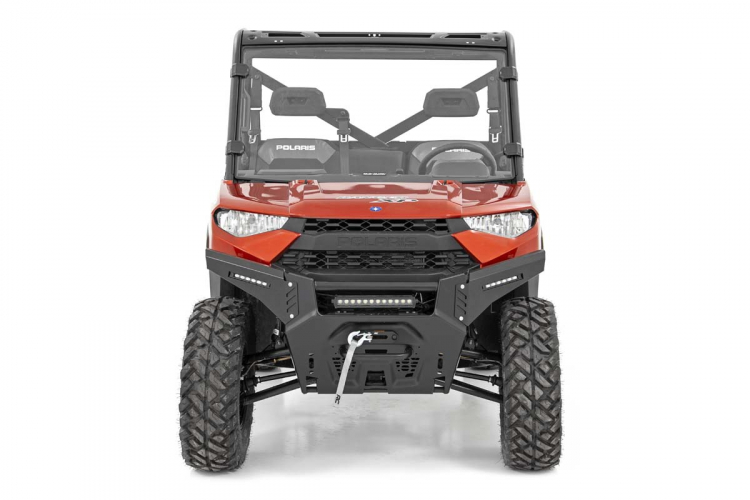 Just like their rear windshield, Rough Country's hard-coated front windshield is precision cut to fit the dimensions of the Polaris Ranger roll cage. Using four cage-mounting clamps, Rough Country's polycarbonate windshield can be both installed and taken off in a matter of minutes. You can use it seasonally during the winter when you're plowing snow or commuting to your mountain cabin, then remove it come summer to get the full outdoor riding experience.
Contrary to glass windshields, polycarbonate Polaris Ranger windshields like the ones by Rough Country are both lightweight and impact resistant. They won't chip, crack, or fracture, nor will they fragment and discharge sharp shrapnel in the event of a collision or rollover. There are several companies out there that make quality polycarbonate windshields for the Polaris Ranger, but few can measure up to Rough Country.
Number 3: Rough Country's 4,500 Lb Electric Winch For The Polaris Ranger
Some riders like to install UTV winches for recovery applications, while others use them to operate snow plows. But Polaris Ranger winches can also be used to pull logs out of difficult areas, to extract posts from the ground, or used as hoists when field dressing game. But whatever uses you have in mind for a Polaris Ranger winch, the 4,500 Lb synthetic-line winch by Rough Country has served countless riders well for a variety of tasks.
The 4,500 Lb winch category is perfect for the Polaris Ranger. It's strong enough to get you out of any swamp, mud hole, or deep puddle, yet lightweight enough to not significantly weigh down your side-by-side. One attribute of Rough Country's 4,500 Lb winch that contributes to its low mass is the synthetic rope winch line it uses. Although synthetic ropes do require a bit of maintenance to prevent them from chafing or losing strength due to water and UV light, they are easy to replace, they don't recoil after failure, and they are as strong — if not stronger — than their steel cable counterparts.
Concluding Remarks
In principle, UTV accessories require relatively few things to be quality. They need to be durable, practical, and easy to install / use — and making them affordable is a nice cherry on top. But in practice, these simple characteristics are difficult to achieve. Among the few companies that have been able to realize said attributes stands Rough Country. There's a reason why their products fly off the shelf, and riders who try one of their accessories often return for more. Sure you could take our word for it. But if you want to experience the distinction between good products and great products, try one of Rough Country's Polaris Ranger accessories for yourself and live it firsthand!