Polaris Ranger XP 1000 Vs. Can-Am Defender HD10: An In-Depth UTV Comparison
Aug 15th 2023
When it comes to utility task vehicles (UTVs), two names consistently rise to the top of the list: the Polaris Ranger XP 1000 and the Can-Am Defender HD10. Both machines are celebrated for their powerful performance, robust utility, and refined features. Yet, each offers distinct characteristics that set them apart. In this blog post, we will take an in-depth look at these two market-leading UTVs, comparing their performance, design, functionality, and overall value.
Performance
Starting with the heart of these vehicles, the Polaris Ranger XP 1000 comes equipped with a 999cc ProStar engine, generating 82 horsepower. This liquid-cooled, 4-stroke DOHC twin-cylinder powerhouse promises high torque at low RPMs, ensuring a smooth ride over any terrain. Its automatic PVT transmission with EBS (Engine Braking System) enhances stability and control during descents.
On the other hand, the Can-Am Defender HD10 is powered by a Rotax 976cc V-twin engine, delivering 82 horsepower as well. This engine offers exceptional power delivery with an impressively smooth, low-vibration performance. The HD10's Pro-Torq transmission, with a Quick-Response System, enhances drivability and precision.
Design and Comfort
In terms of design and comfort, the Polaris Ranger XP 1000 boasts of a more comfortable bench seat for three adults. It also features 11-inch ground clearance and an 81-inch wheelbase. Its distinctive style features a large cargo box and an updated, automotive-style cabin with plenty of space for gear storage.
Conversely, the Can-Am Defender HD10 has a more work-oriented design. It has a wheelbase of 83 inches and ground clearance of 11 inches as well. The HD10's cargo box is slightly more utilitarian with its versatile Multifunction tailgate. Inside, the HD10 boasts a roomy, modular interior with a flip-up passenger seat for additional storage or a second passenger.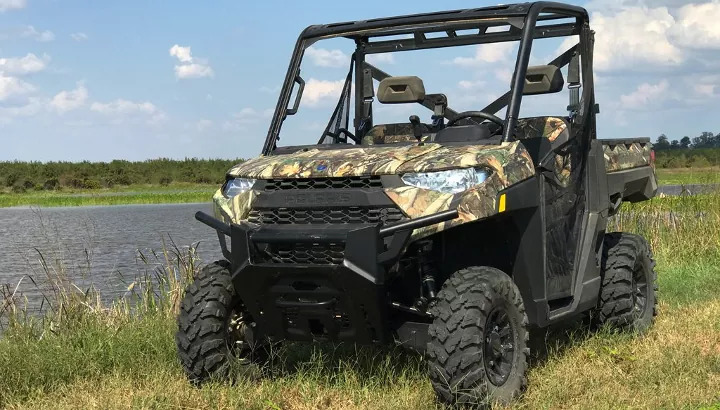 Functionality
The Ranger XP 1000, with its standard 2,500 lb towing capacity and 1,000 lb box capacity, is designed for heavy-duty tasks. Its electronic power steering and three-mode throttle control (Performance, Standard, and Work) allow easy customization of your ride based on your task and terrain.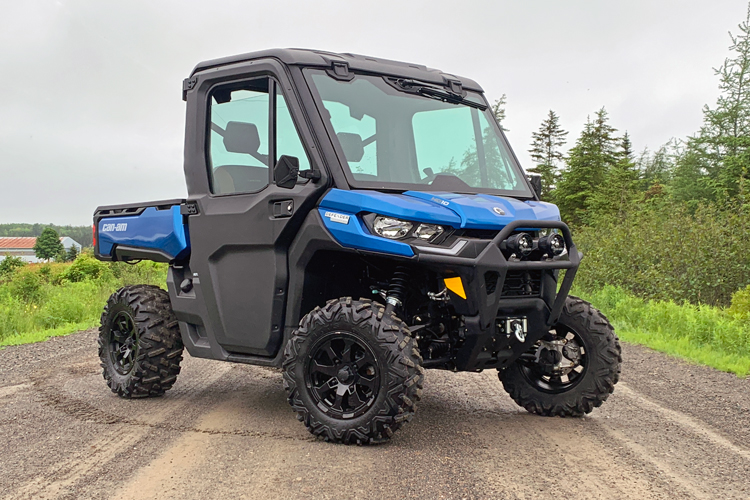 The Defender HD10, in comparison, stands out with its impressive towing capacity of up to 3,000 lbs and a box capacity of 1,000 lbs. It features an integrated front steel bumper and a central skid plate. Like the Ranger, it also includes electronic power steering, but adds a Dynamic Power Steering (DPS) feature that adjusts the level of steering assistance based on the vehicle's speed.
Price and Value
As of 2023, the base MSRP for the Polaris Ranger XP 1000 stands around $16,299, while the Can-Am Defender HD10 is slightly more expensive with a base price of $18,999. Each offers several variants at different price points, with a multitude of accessories and customization options.
The Polaris Ranger XP 1000, with its slightly lower price point, provides excellent value for those looking for comfort, balanced performance, and utility. The Can-Am Defender HD10, though a bit pricier, offers more in terms of raw power and ruggedness, particularly for heavy-duty tasks.
Conclusion
In conclusion, both the Polaris Ranger XP 1000 and the Can-Am Defender HD10 are formidable UTVs that are worth considering. Each has its strengths, and the best choice depends on your specific needs and budget. Whether you value the smooth, well-rounded performance of the Ranger XP 1000, or the raw power and ruggedness of the Defender HD10, both models ensure high-quality, reliable UTV experience.
In the end, remember that the right UTV is not just about specifications and features. It's about how well it suits your lifestyle, your tasks, and the terrain you plan to conquer. Try test-driving both models to feel the difference and make an informed decision. Happy trails!