Polaris Ranger Rack And Pinion: Common Steering Problems And Easy Solutions
May 24th 2021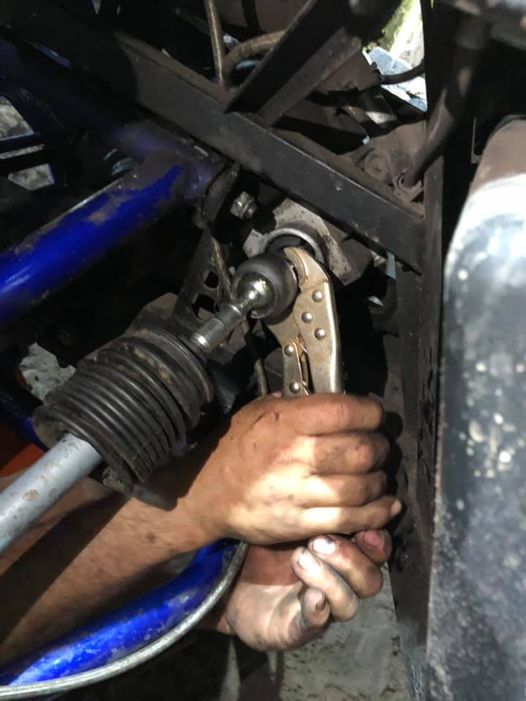 To be perfectly frank, the factory Polaris Ranger rack and pinion is junk. And as such, a large number of riders have experienced significant steering problems with their Ranger side-by-sides. Admittedly, some of these steering issues are attributable to driver error, overconfidence, and recklessness. That being said, however, not all steering problems can be blamed exclusively on the riding habits of the driver. Tie rods and tie rod ends are often the culprit, but a major cause of steering issues in the Polaris Ranger 1000, the Polaris Ranger High Lifter, and the Polaris Ranger 900 is the rack and pinion. So if the steering rack or pinion gear on your Polaris Ranger is shot, here are some options that might just solve your Polaris Ranger steering problems!
Fixing A Bent Polaris Ranger Steering Rack
Instead of opting for a stock-style or aftermarket Polaris Ranger rack and pinion assembly to replace the one you deformed while riding, you might be tempted to just bend the shaft section of your steering rack back into place. While this is indeed a possible course of action, it comes with a few risks. When bent, the metal that makes up your Polaris Ranger rack and pinion unit becomes fatigued; and when you bend it back, it will fatigue even further. You must ask yourself, is it worth the risk? And if your rack and pinion then breaks completely on the trail, how screwed will you be, and what will the collateral damage entail? In some cases, you might be able to replace the tie rods or tie rod ends and be fine. In other cases, however, you'll need an entire rack assembly as well as both inner and outer tie rods.
If you do decide to conduct an at-home fix, start by removing the tie rod ends from the steering assembly. Have a fairly big box of sand handy (foundry sand is preferable, but you can also use a heat-treat oven in a pinch) and start heating the bent area with a torch until it's red hot before trying to change the angle back to its original shape. Once everything is nice and hot, use a ¾" pipe to straighten the rack, then bury it in sand so that it cools down slowly. This will help to prevent cracks and work-hardening, and allow you to get more life out of your rack and pinion before needing to replace it. But unless you're never too far from home or are willing to risk it, your best bet will be to either replace or upgrade your Polaris Ranger steering rack and pinion.
Replacing A Polaris Ranger Rack And Pinion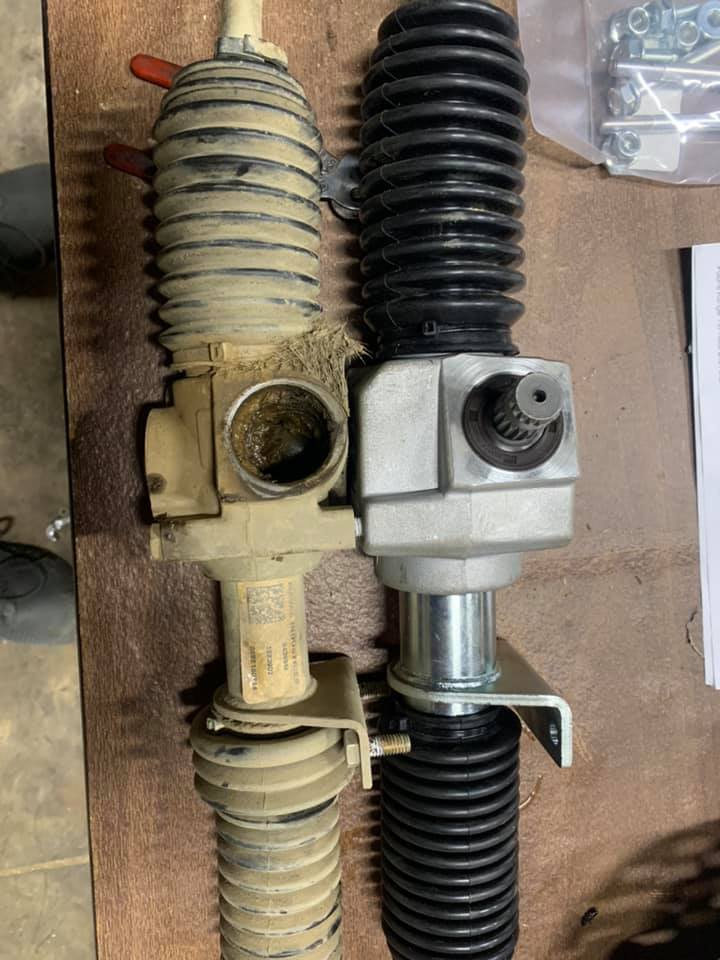 Stock rack and pinion replacements for the Polaris Ranger are an option, but they're only a temporary fix and not a permanent solution. Sure, if you baby your rig and never stray too far from the blacktop, you'll likely be fine. But if you're sitting on a 6" lift with 4" portals and running 35" tires, the factory Polaris Ranger steering rack and pinion system will simply be unable to hang. So if you're not wanting to replace your rack and pinion after every other ride, an upgraded aftermarket unit is probably your best bet.
Polaris only sells the entire rack assembly, but if you only want to upgrade your rods, companies like SuperATV sell super strong heavy duty tie rod kits for the Polaris Ranger. But if your rig is veering, wandering, or skipping pinion gear teeth, you're going to need a whole lot more than tie rods alone. In addition to their HD tie rod kits, SuperATV also makes aftermarket UTV steering racks. And unlike TCP Offroad -- which offers a pretty good rack and pinion for the Can-Am Defender -- SuperATV's aftermarket rack and pinion setup is available for use on the Polaris Ranger.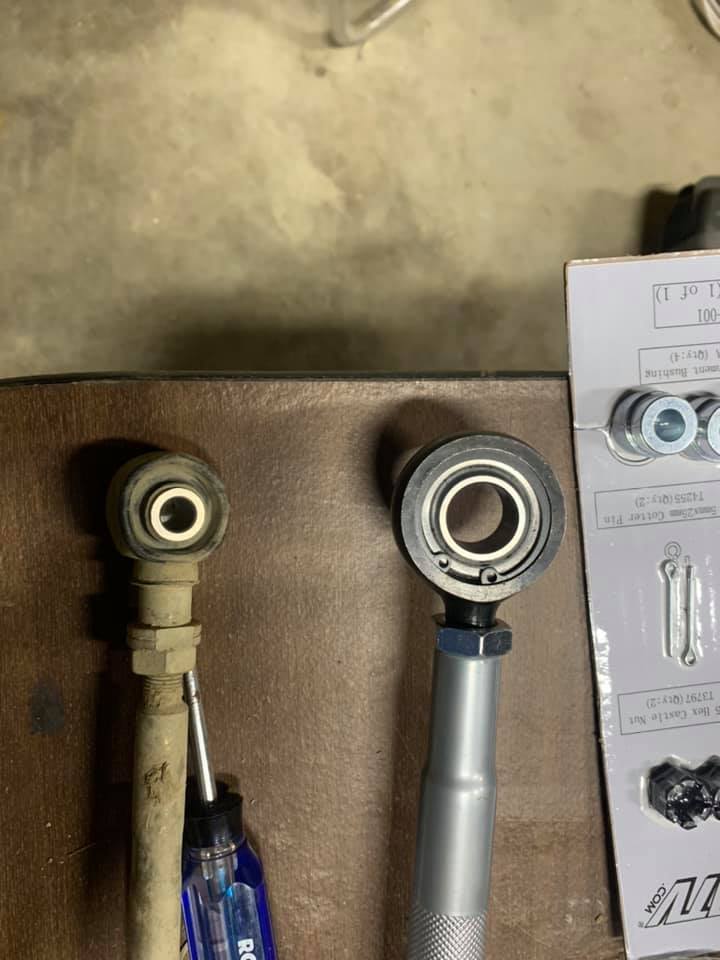 Rackzilla steering racks are also leaps and bounds better than factory Polaris Ranger rack and pinion systems, and the Polaris Ranger racks and pinions by Shock Therapy are also a huge improvement over stock. There is one slight caveat with the latter option, however, as Shock Therapy doesn't have an option for every year and edition of the Polaris Ranger. What you can do, though, is get one of Shock Therapy's Polaris RZR 1000 or Polaris General rack and pinions, then retrofit your Ranger's frame by drilling new mounting holes to match the bolt pattern of the Shock Therapy steering rack. Yes this conversion takes some time, but it won't leave you broke down and stranded in the middle of nowhere with a rig that you're unable to steer or even operate!
Protecting The Polaris Ranger Rack And Pinion
If you don't need a tight turning radius and want to prevent damage to your machine's rack and pinion, Polaris Ranger steering stops are always an option. Steering stops will prevent your rig from oversteering, which is a leading cause of Polaris Ranger steering issues. Alternatively, you can also use sway bar links to improve the stability of your rig while turning. You can install Polaris Ranger link bars on the front end of the machine, or use them all around for complete anti-roll protection.
Closing Thoughts
Throw in a RackBoss or invest the time and money into Shock Therapy's Race Rack. But whatever you do, don't let your entire weekend get ruined due to issues with your Polaris Ranger rack and pinion. If you buy a junk product, expect nothing but junk results. And if you run huge aftermarket tires, snow tracks, or massive lifts, just know that the forces exerted on your Polaris Ranger rack and pinion and extraordinary, making breakage nearly unavoidable. So if you're sick and tired of rack and pinion issues, help is here, and it goes by the name of Everything Polaris Ranger!