Everything Polaris Ranger Hits A Growth Spurt
Nov 29th 2020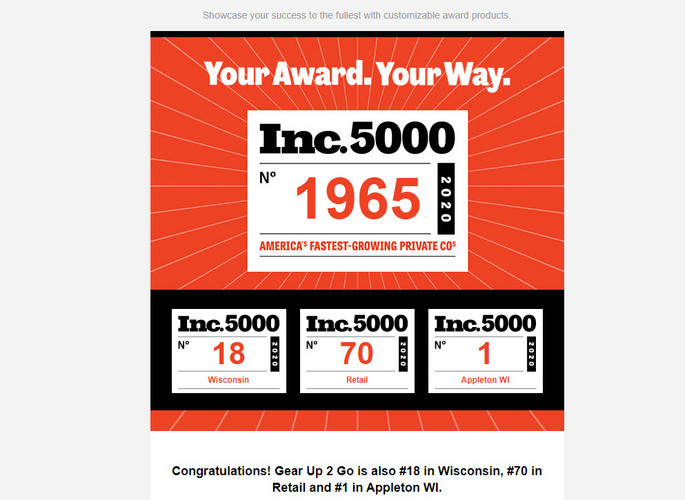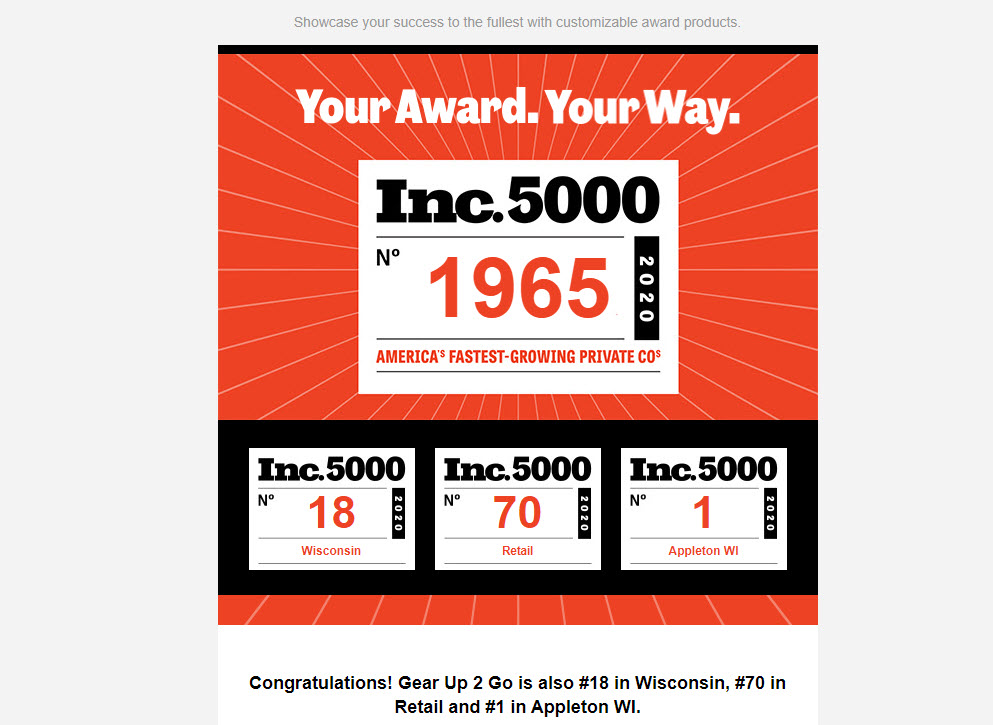 Everything Polaris Ranger and its parent Company Gear Up 2 Go has recently been recognized by Inc. Magazine as one of the top 5,000 fastest-growing private companies in America. As the 1,965th fastest-growing private company in America, the 18th fastest-growing private company in Wisconsin, and the number one fastest-growing company in Appleton WI, it brings us great satisfaction to know that all of our hard work is paying off. In addition to the dedication, commitment, and determination of our founders and employees in their endless quest to satisfy the needs of our customers, the increasing popularity of side-by-sides, the diverse Polaris Ranger offerings, and the rapidly-advancing aftermarket accessory industry have all contributed to our fast-paced growth! And as we grow, we hope to better serve the users who rely on Everything Polaris Ranger for their aftermarket needs!
In the past, UTVs were a niche product used by farmers and enthusiasts. This all changed, however, when Polaris released their Ranger lineup of side-by-sides. With greater functionality, increases in power, and the ability to traverse rough and rugged terrain, the Polaris Ranger helped to usher in a new era of UTV ownership. Instead of being used exclusively as a solo work vehicle, the creation of multi-passenger Polaris Rangers with the capacity to seat 3-5 people allowed the whole family to join in on the fun. New legislation has also contributed to the uptick in UTV ownership. Not only have new trail networks opened up, but side-by-sides have become street legal in many states — making them more like fun-to-drive cars rather than boring pieces of equipment for utilitarian use.
You can find Polaris Rangers nowadays that cost more than cars, and their quality reflects this. Many Rangers have either stock or aftermarket HVAC systems that can produce hot air in the winter, and cool air in the summer. Add to this newfangled stereo offerings that bump louder than your average rock concert and it's clear to see that the recreational use of Polaris Rangers has exploded in recent years. Drive down any small-town street or rural town and you're sure to see parking lots full of UTVs and Polaris Rangers on trailers and in driveways.
Under the leadership of the company's founder Michael Lutes, the growing number of Polaris Ranger owners have been able to find all the accessories their hearts desire by shopping at Everything Polaris Ranger. He has been quoted saying that, "I am so proud of the amazing team we have built! Our company is made up of 50+ people that come in every day and give 110% to serve our customers and make Gear Up 2 Go a better place to work!! We have a management team that is out of this world and this award is a testament to their leadership. Our company is not big into awards but what we are into is surpassing our customer's expectations, and this is just a recognition of that, which we are all very proud of."
At the end of the day, nothing brings us more pleasure than the ability to help our customers customize their machines to better embrace their passion and get more pleasure out from their spare time. One of the coolest things about our business is that we can help so many different kinds of riders to leverage their passion for UTVs and get more out of every single ride. At Everything Polaris Ranger, we serve outdoorsmen, hunters, racers, family trail riders, dune riders, mountain riders, desert riders, mudders, weekend recreational riders, and about 100 other specific riding styles. We Carry Over 100,000 accessories and parts from over 200 brands to serve all of our different customer's needs.
Receiving an award like this great. But what truly reaffirms the value of our hard work is the great feedback we receive from everyday riders. Be it a farmer who increased his yield with one of our Polaris Ranger disc plows, or a hunter who got the biggest buck of his life with the help of a Polaris Ranger gun rack, nothing can put a smile on our face like comments or responses that let us know we helped improve the life of a Polaris Ranger owner!