Buyer's Guide: Factory Specs For The Polaris Ranger And Polaris General Tire Size, Wheel Size, Wheel Offset, And Bolt Pattern
Nov 14th 2020
Be it to find an appropriate spare tire to use with your bone-stock Polaris Ranger, or to find the right set of take-off tires to maintain the factory feel of your bike, it's important to know the tire and wheel size as well as the rim offset and bolt pattern whenever you deal with Polaris Ranger tires and wheels. Although running mismatched tires sizes isn't necessarily detrimental, and things like wheel adapters exist as workarounds to non-conforming bolt patterns, getting Polaris Ranger tires and rims that meet factory specifications will not only ensure that they can be attached easily, but also that they won't rub or scrub at full turn or when the suspension bottoms out. Regardless of whether you've got the Polaris General 1000 or the Polaris Ranger XP 570, here are the factory tire and wheel specs for your particular Polaris model!
The Polaris Ranger And Polaris General Stock Bolt Pattern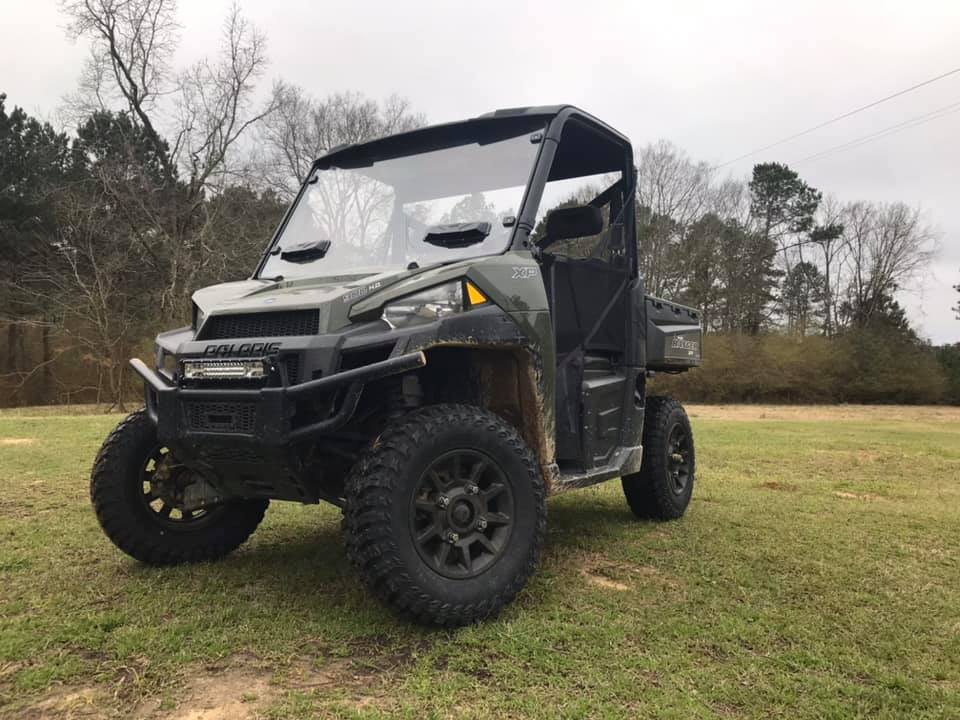 Unless you bought your Polaris General or Polaris Ranger from someone who made significant modifications, the bolt pattern on all Polaris-branded Rangers, Generals, and Razors is 4/156. Like with everything, there are always exceptions, and edge cases do exist, but with almost complete certainty, your vehicle's pitch circle diameter is 4/156. This means that there are four stud holes where the bolts are meant to slide through that measure 156mm away from the corresponding holes on the opposite side.
Factory Specs For Polaris General Tires And Wheels
The stock lug nuts on the Polaris General are 12mm by 1.5, where the latter number is the thread pitch (i.e the distance in millimeters between the threads). If you're looking into replacement lug nuts for the Polaris General, you will most likely have to get spline lug nuts, as the sockets for regular hex-style lug nuts don't fit through the holes on the rims.
As far as tire size goes, the front and rear tire sizes on the stock Polaris General differ based on the package you bought. Some Polaris General editions come with 27x9 front tires and 27x11 rear tires with 12" rims, while others come with 27x9 tires in the front and 27x11 tires in the rear with 14" rims — with the first number being the tire diameter (height) in inches, and the second number being the tire width.
Many riders question why side-by-sides come with different sized tires in the front and back, and there are a few reasons behind this. For one, vehicles without power steering can use skinnier front tires to slice through mud and snow easier. And although you want the steering to be easy, you also want as much traction as possible, which is why the back tires are fatter. In many ways, this is a legacy effect stemming back to the old days where electronic power steering wasn't as common. And although many UTV makers have switched to making all four tires the same size, this is something Polaris has yet to pick up on.
Like tire size, the rim size on different Polaris General packages can differ as well. Some Generals come with 12" rims, while others come with 14" rims. And where wheel offset is concerned, the front wheels on the stock Polaris General are 6x1, while the rear wheels on a stock Polaris General are 5x2. Further, the front Polaris General wheels on some editions -- like the Deluxe -- are 6" wide, whereas the rear Polaris General wheels are 8" wide.
Factory Specs For Polaris Ranger XP 1000 Tires And Wheels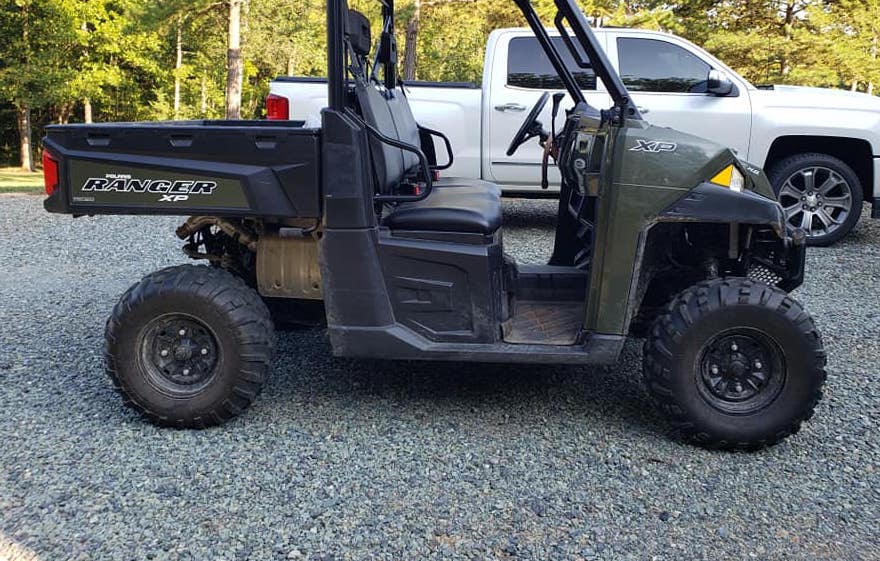 Compared to the General, the factory tire and wheel specs for the Polaris Ranger XP 1000 are relatively straightforward. Like virtually all Polaris UTVs, the bolt pattern is 4/156, while the wheel offset is 4+3 and the rim size is 12x4 all around. And although both the front and rear stock tires have a diameter of 27", the tire width on the front is 2 inches smaller than the rear, giving the factory machine a front and rear tire width of 9 inches and 11 inches respectfully.
Factory Specs For Polaris Ranger XP 900 And Polaris Ranger XP 570 Tires And Wheels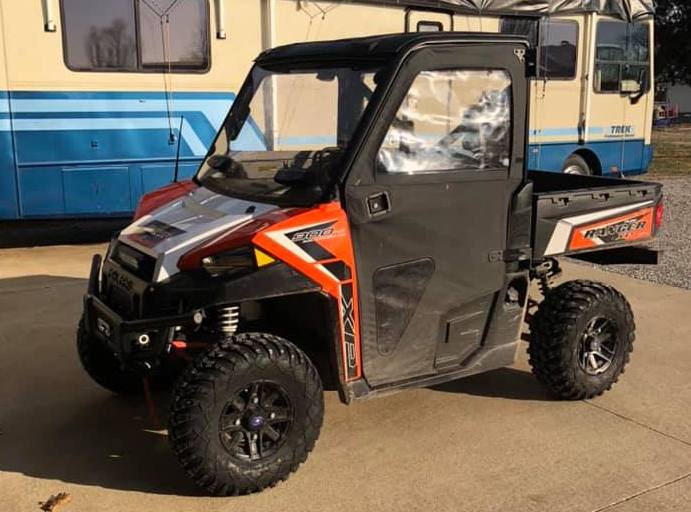 Both the Polaris Ranger 900 XP and Polaris Ranger 570 XP use 12mm x 1.5 lug nuts. However the tire and wheel size will vary from model to model. On the 900 XP, the front and rear tires and wheels can be 25x10-12 & 25x11-12 respectively, or they can be 26x9-12 and 26x11-12 respectively.
Regarding wheel offsets for the Ranger 900 and 570 XP, the stock rear wheels have a 5+2 offset, while the stock front wheels have a 4+2 offset. Some riders choose to go with a 4+3 offset on all four tires, which will move the wheels outward by around one inch.
Factory Specs For Polaris Ranger Mid-Size, 500, And 800 Tires And Wheels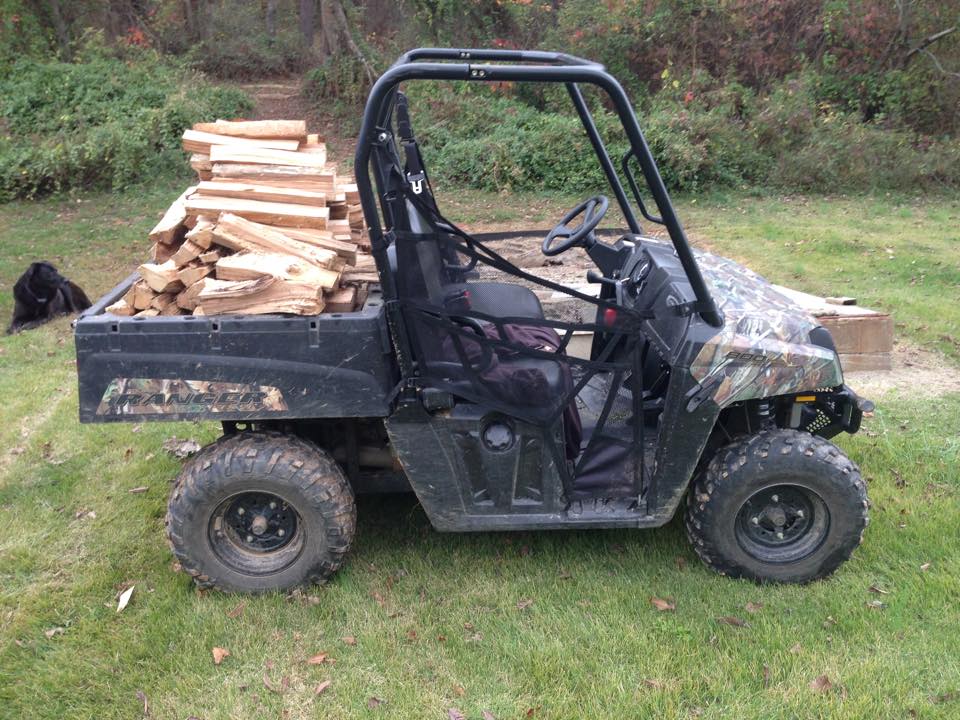 The lug nuts for stock Mid-Size Rangers, Ranger 500s, and Ranger 800s are 3/8 x 24. In addition to the size and thread pitch of the lug bolts, you'll also want closed lug nuts that don't allow the stud to poke through. Although this might cause problems if you get aftermarket rims, with stock wheels, closed lug nuts will help to prevent corrosion.
Mid-Size Polaris Ranger stock tires are 25" tall with a width of 8 inches in the front and 11 inches in the rear. And aside from the High Lifter edition of the Mid-Size Ranger, the stock rims are 12 inches in diameter. Even though the size of Polaris Ranger 500 and 800 tires vary based on the model, they generally fall within a range of between 25 and 27 inches — with the High Lifter edition again being an exception with 28" tires.
Final Thoughts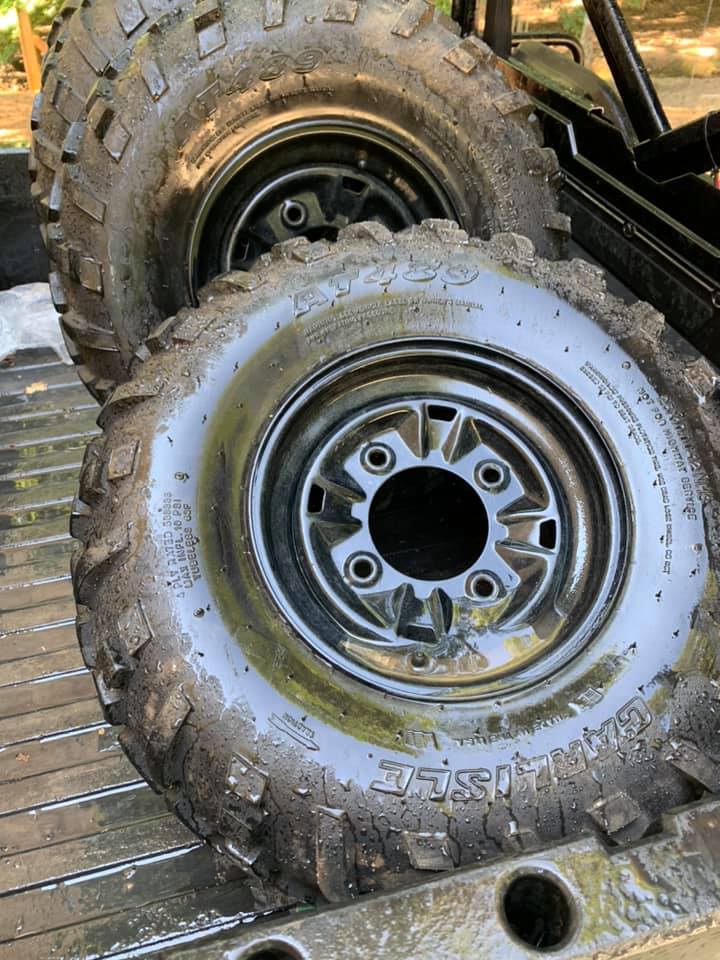 If you currently own a Polaris Ranger or Polaris General with a stock tire and wheel setup, you can always bust out the ol' tape measure and check the size specs for yourself. Alternatively, the owner's manual also has most of the information you'll need. While there is a lot of info to learn about your stock Polaris Ranger and Polaris General tires / wheels, understanding the requirements of your vehicle before making any purchasing decision will save you a great deal of trouble. If you're looking for a single take-off Polaris Ranger tire to replace a damaged one on your machine, or if you're wanting to go back to stock tire and rim specifications for warranty reasons, we hope you've been able to absorb all the necessary details to achieve your end goal from the information above!