All Geared Up: How to Properly Maintain your Polaris Ranger Winch
Jun 26th 2018
No matter the weather, no matter the terrain, it's always a great idea to have a working winch on board. On long trips especially, having a winch can mean a quick tow out of a hairy situation. ATVs and UTVs are awesome for going where no larger 4x4 can make it, but all the same, it's best to be prepared when you're traversing the backcountry.
While a winch can be an amazing tool, it's essential that you keep it in tip-top shape for best use. Your buddies won't appreciate the helping hand when they find out your winch cable is split, broken, rusted, or even jammed. Or worse yet, your winch or cable fails during a recovery. In addition to ease of use, winch maintenance is a safety concern as well.
Test, Test, Test your Polaris Ranger Winch
Your gear is stowed, the cooler's full of your favorite ice-cold beverages, and the truck's gassed up. You're ready to go! Before you head out, though, do a once-over on your ATV or UTV. Along with checking your fluids, inspect your winch cable for any fraying lines, loose bolts, or faulty electrical connections. If your cable is damaged in any way that will affect its use, replace the cable as soon as you can. When you're stuck between a rock and a hard place (literally), you'll be thankful.
Shop our selection of Polaris Ranger winches for your Mid-Size, Full-Size, or Crew.
Keep it Clean
At the end of your trip, it's easy to park your ATV/UTV and call it a day—but not if you want to preserve the value of your equipment. The next step in taking care of your winch is keeping everything that's great about the outdoors off. That means water, leaves, dirt, gravel, mud, sand, and anything and everything else that's not part of the winch assembly. Remember how clean and neat the winch was when you bought it? That's what you're aiming for each time you store your ATV or UTV.
Keep the memories of your extreme outings, but don't let them ruin your next adventure. Unwind your winch cable after every use and thoroughly hose it and the assembly off. Then, allow them to dry. Winding the cable up while it's wet will increase your risk of rust, so leave it out in the sun for a few hours to dry completely. Then properly wind the cable back on neatly, avoiding loops and kinks.
If you'd prefer, you can spray your cable down with some WD40 to keep it lubricated and help prevent rust. Avoid using anything too greasy; remember you will most likely be handling the cable at a later date, and too much lubricant can attract debris.
Winch Accessory Kit: An Extension of Your Winch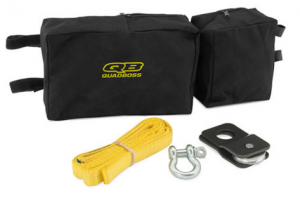 Another great tool to have is a winch accessory kit, also known as a recovery kit. Complete with all the rigging you'll need in a recovery situation, this kit is an extension of your winch and also requires proper care. Store your accessory kit within your ATV/UTV, and periodically check to make sure each component is in working order. If you do end up using your tow straps, snatch block, or shackles, wash each part and allow them to fully dry before storing. A little lubricant on shackles and snatch blocks helps to ensure ease of use. Keep all recovery components within the provided carrying case or bag of your choice so that next time, you'll have everything you need in one place. It is also a good idea to include a pair of heavy-duty gloves in your kit for handling winch cables, and tackling any other dirty job you might encounter.
If you're looking to go the extra mile, you can also invest in a winch cover. Covers made of material similar to wetsuits are the best for keeping your winch protected and free of debris and water.
If you're ever unsure about how to take care of your winch or have specific questions, check your owner's manual or contact the manufacturer. They can assist you with any maintenance or operating concerns you have.
Take care of your winch, and it'll take care of you. Whether you're just heading out or coming back from an adventure, it's important to keep your equipment ready to roll. That way, when it comes time for the real fun, you're ready!
Shop our selection of Polaris Ranger winch accessories for your Mid-Size, Full-Size, Crew or General.