2021 UTV Events For Polaris Ranger & Polaris General Owners
Jun 3rd 2021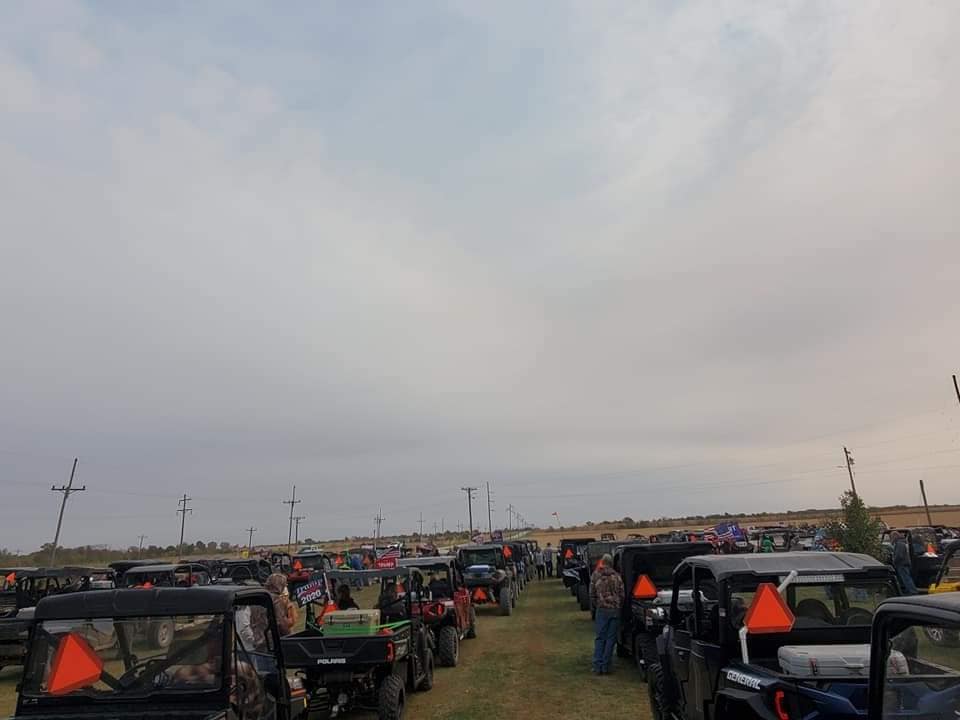 Riding alone or with a small group of friends is always a blast. But if you're wanting to expand your horizons, meet like-minded people, and get more involved in the side-by-side community, there are many off-road UTV events you can attend with your Polaris Ranger, Polaris Ranger 900, or Polaris General. And although many off-road events in 2020 were canceled, the 2021 UTV events that organizers have planned are gearing up to be something special. So don't miss out and bring your Polaris Ranger to an upcoming UTV event near you!
February 2021 UTV Events
Cajun Muddy Gras
Starting the year off with a bang is the Cajun Muddy Gras event held between February 11th and February 14th at the Muddy Bottoms ATV & Recreation Park in Serpenta Louisiana. This event was presented by Can-Am in 2020, which gave Polaris owners a great opportunity to reach across the aisle and connect with their arch rivals. Although Can-Am still sponsors the Cajun Muddy Gras, so too does SuperATV, Valveworks, and a host of other off-road brands that you know and love. Not to be confused with similar events like the Mardi Gras Muddfest at the Creekside Offroad RV Ranch in Splendora TX, the Cajun Muddy Gras event in Sarepta LA will be chalked full of fun and excitement with parades, music, and of course, ample amounts of mud!
Mardi Gras Ride
Located near the Neches River in Jacksonville Texas, the River Run ATV Park offers a darn good time no matter what season it is. But between February 18th and February 21st, the park really comes alive during the annual Mardi Gras Ride. The admission to River Run's 2021 Mardi Gras Ride is $55, but once inside, you'll have your fill of good times and jubilation with activities like poker runs, bounty holes, treasure hunts, and a Mardi Gras parade!
Kanrocks Frostbite
The single-day K-Rocks Frostbite event that takes place annually -- and on Feb 27th in 2021 -- at the Kansas Rocks Recreation Park is the perfect way to start your riding season off on the right foot! As the name would suggest, it can get a bit chilly during this wintertime event, but with coffee, hot cider, warm food, and great company around every turn, you're sure to stay warm even without accessories like Polaris Ranger cab heaters!
March 2021 UTV Events
Mud Rodeo
Kicking off March the right way is Mud Rodeo hosted at the Rock Creek Racing and Recreation Off-Road Park in Booneville Arkansas between March 5th and March 7th. This family-owned ORV park contains nearly 900 acres of woods, mountains, creeks and pastures, and includes everything from rock gardens and mud pits to dirt drag strips and motocross tracks.
Muddy Bug Bash
Taking place the same weekend as the Mud Rodeo, the 4th annual Muddy Bug Bash in Leakesville Mississippi offers something that few other Polaris Ranger UTV events provide -- free crawfish! But if you want to experience a good time with concerts, sandbars on the river, rental cabins, and a seemingly endless amount of southern peanut butter mud, the Muddy Bug Bash held at the Wild Country Off-Road park is a can't-miss event!
Shamrock Shakedown

The Shamrock Shakedown is held at WindRock Park in Oliver Springs Tennessee over the St. Patrick's day weekend -- March 18-21. Presented by Titan OffRoad, the gates for this event open at 3pm on Thursday. But don't worry about being first in line, because there are plenty of camping spots available! In addition to live music, quality company, and all the off-roading you can handle, a raffle is also conducted at the Shamrock Shakedown where you can win great prizes such as first aid kits, bump stops, and Rotopax fuel packs!
Rednecks With Paychecks Spring Break
The March 18-21 spring break event hosted at Rednecks With Paychecks Off-Road in Saint Jo Texas is where riders can go to get down and dirty. With bounty holes, tug-of-war competitions, and mud crawls that offer cash prizes, you might end up coming out of the event a bit richer than when you came in! For a hell-raising holiday replete with hijinks and shenanigans this spring break, the Rednecks With Paychecks event is your golden ticket for days of amusement!
SuperATV Mudd Mayhem
After the Mardi Gras Ride, the next event to be held at River Run ATV Park is SuperATV's Mudd Mayhem on the 25th to the 28th of March. On top of events like their "Crank It Up Contests" sponsored by Millar Light Bars, "Baddest On The River" sponsored by Rogue Off-Road, and championship mud racing to separate the boys from the men, the 2021 SuperATV Mudd Mayhem gathering also has live music, treasure hunts, and poker runs!
Riding For A Reason
Not all UTV events in 2021 are hedonistic parties fueled by full throttles and off-road raging. Case in point, the Riding For A Reason event to raise awareness for colon cancer at the Bass River Resort in Steelville Missouri. The 6th Annual Riding For A Reason Spring Ride goes down on March 26th / 27th, with packages for adults, kids, and entire families. Be a philanthropist and rip it up at the same time by signing up to join Riding For A Reason's 2021 Spring Ride!
Backyard Mud Fest at Tower Trax ATV
Containing 40 miles of manicured trails on 2,600+ acres of land, the Tower Trax ATV Recreation Park in Fulkner Louisiana is a mecca for off-roaders of all walks of life. And besides the natural splendor, Tower Trax ATV Recreation Park is also home to bathhouses, concession stands, bike wash stations, RV hook-ups, oval and drag mud racing complexes, and 5 distinct mud ponds of different sizes and depths! Come to the Tower Trax for the Mud Fest, then return again in June for the Bounty Hole Bash with a Friday-night foam party, a VIP pool party, concerts, and more!
Ride For Reid
Like the Riding for a Reason event, the Ride for Reid charity gathering is also organized to support a good cause. It occurs March 26-28 at Adventure Off Road Park in South Pittsburg TN. You can make a charitable donation at the event, or simply show your support by attending.
Kanrocks Night Run
After freezing your butt off at the Kanrocks Frostbite event, you can come back to Kansas Rocks Recreational Park on March 27th to experience the Kanrocks Night run -- just make sure to have your light bar and cube lights ready to rock! If you can't make it on the 27th, Night Run events also take place at Kansas Rocks And Recreational Park later in the year on July 24th as well as August 21st.
April 2021 UTV Events
High Lifter Mud Nationals
In early April (April 7-11 to be exact) the self-proclaimed largest mud party in the world takes place at the Hillarosa ATV Park in Blevins AR. Hosted by the notorious UTV firm High Lifter, the 2021 Mud Nationals are set to be even more epic than the previous years. And if you like the vibe at High Lifter's Mud Nationals event, head on up to Elk River Minnesota and partake in their June 9-13 Off-Road UTV Rally! Join in on the action or sit back and watch as professional riders perform breathtaking stunts right before your eyes!
Rattlesnake Hunt
On the first weekend after Easter, the Waynoka Rattlesnake Hunt takes place at the Little Sahara State park in Oklahoma. But even if catching rattlesnakes isn't your thing, this event has something for the whole family to enjoy, be carnival rides and local food stalls to snake shows performed by professional reptile handlers!
International Mud Rider Convention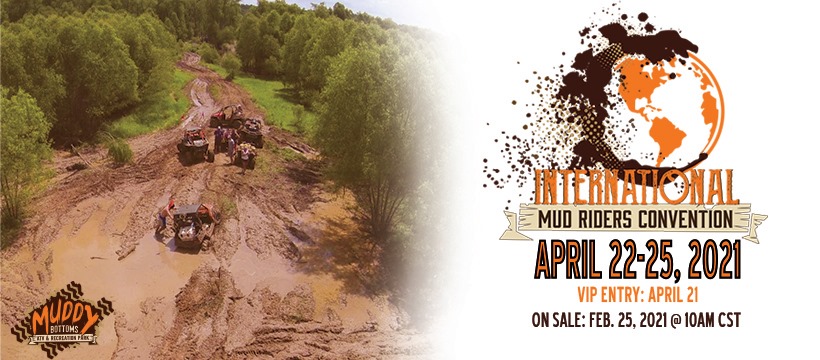 After the excitement of the Cajun Muddy Gras dwindles away to nothing but good memories, you can make your way back to the Muddy Bottoms ATV and Recreation Park in Sarepta LA for the 2021 International Mud Riders Convention on April 22-25. Head on down and enjoy the nice spring weather and get your fill of more mud obstacles than you know what to do with!
Windrock Park Spring Shindig
If you missed the Shamrock Shakedown at Windrock Park, here's your second chance! The Windrock Park Spring Shindig in Oliver Springs Tennessee is one of the biggest outdoor UTV event / country concert in the Southeast! Rip it up during the day, then jam out to some live country music at night.
Busco Beach Mud Bash
Mud Bash week at Busco Beach & ATV Park in Goldsboro NC is your opportunity to show what you've got and potentially earn a bit of cash in the process. Following the mud races, you can enter the Bounty hole contest for a chance to win a first-place prize of $750! And if you're lucky, you might just win the May 2nd cash giveaway of $2,500! Come for the day or make it a week-long outing; either way, you're going to have fun at the Busco Beach Mud Bash!
Mud Jam 12
Between April 29th and May 2nd, River Run's Mud Jam 12 event takes place in Jacksonville TX. There'll be a treasure hunt, a poker run, an "Engine and Egos" bounty hole series, live music, and more. So if you're in the area and looking for something fun to do, the Mud Jam 12 won't disappoint!
UTV Rally Mormon Lake
With everything from camping and s'mores to giveaways and vendor tents, the 5th annual UTV Rally at Mormon Lake sponsored by Rugged Radios is sure to be one for the record books. The event takes place May 7th and 8th at Mormon Lake in Arizona. Once inside, you can run the demo course, check out the latest accessories, or watch the always-entertaining "run-what-you-bring" Hooptie races where pandemonium is bound to ensue!
June 2021 UTV Events
Redneck Rave
With mud, music, and mayhem, the Redneck Rave at Blue Holler Offroad Park is marketed as the wildest and craziest party of the summer. Because it takes place during the TN Trail Jam between June 16th and June 20th, you'll have to make a decision on which event to attend. But if you enjoy raucous revelry and unmatched natural beauty, the Redneck Rave at Mammoth Cave Kentucky will make you feel right at home!
UTV Takeover
UTV Takeover is self described as the biggest tour of UTV events in the nation, and on June 23rd through June 27th, it's coming to Coos Bay Oregon whether you're ready for it or not! The destination is breathtaking, the activities are exhilarating, and the tickets for general admission are only $25! Watch the Huckfest, Wheeliefest, and Sand Drag events, then make your way to the Corn Hole tournament to see if your aim is better than your driving abilities. After that, check out the Stereo Wars section sponsored by MB Quart, then mosey on down for a little happy hour near the main stage. Whatever your interests may be, UTV Takeover offers something for you. And if you can't make it in June, the event is also held July 28th to August 1st in Grundy Virginia, September 8th-11th in Waynoka Oklahoma, and October 20th-24th in Hurricane Utah!
November 2021 UTV Events
SxS Adventure Rally
Right after UTV Takeover ends in Hurricane Utah, the 2021 SxS Adventure Rally kicks off at Sand Hollow State Park. Registration for this event opens July 1st, so order your ticket ASAP to get first priority! The trials in the area are rocky and scenic, so adjust your Ranger's suspension setup accordingly and bring your binoculars!
December 2021 UTV Events
The Mint 400
Before you make your holiday plans in December, have a look into The Mint 400 that goes down December 1st-5th in Las Vegas / Primm Nevada. Join as a spectator or join as a racer, but don't get stuck in the cold this winter and head on down to Sin City for some hardcore UTV raceing!