Polaris expands Model-Year Lineup
May 14th 2020
Here at Everything Polaris Ranger, we're just as excited as anyone else when Polaris comes out with new models and lineups. That's why, when the Minnesota-based manufacturer recently added to its 2020 lineup with the addition of two new units, we knew we had to let our customers know about it. Take a look at each new model to see the full breadth of offerings that customers will love about the General 1000 Sport and the 2020 Outlaw 70 EFI.
2020 General 1000 Sport
The General 1000 Sport has been built for riders looking to grow their off-road experience with a sport-utility side-by-side. This unit has been built to help users accomplish the toughest jobs and the harshest backcountry trails with ease. While this model features new and improved capabilities that set this unit apart, riders may recognize the similarities to the General 1000 base model, along with updates that include a new exterior color, eye-catching graphics, color-matched springs and trail-ready, 12-inch aluminum wheels- all for an MSRP of $15,999.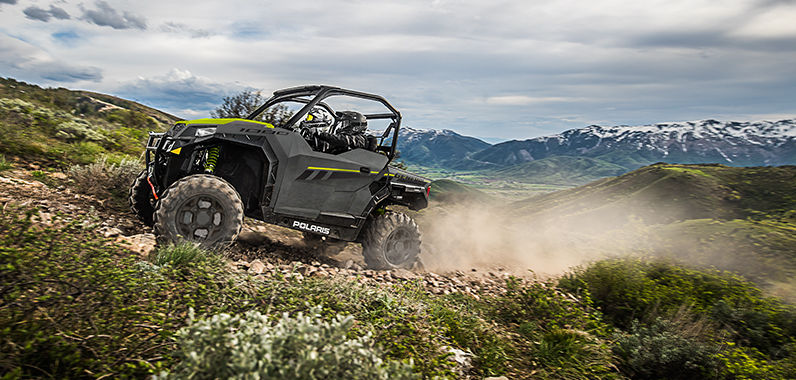 The all-wheel-drive and class-leading 100-horsepower ProStar 1000 engine will have customers scrambling to get behind the wheel to conquer any trail while having the time of their lives. With 12-inches of suspension travel and 12-inches of ground clearance, riders are almost guaranteed to have a smooth ride all the way through every time they ride, even when the terrain throws obstacles your way. The bolstered bucket seats and standard half doors have been developed to further optimize rider comfort during those lengthy rides. Up to 600 lbs. can be hauled in the dumping cargo box, while the unit has been constructed to haul up to 1,500 lbs. of extra gear.
With more than 300 Polaris Engineered accessory options, riders have hundreds of different options to customize their vehicle to make the most of each adventure.
The General 1000 Sport will arrive in dealerships beginning in April.
2020 Outlaw 70 EFI
For the youth lineup, the Polaris Outlaw EFI is setting a whole new pace for the next generation of riders looking to get their start in the off-roading world or continue as they grow in their adventures. Designed for riders ages six and up, this easy-to-ride ATV comes ready with industry-leading safety features that will keep young riders safe and parents at ease, while the new, larger design has been specifically modified so the machine will grow with its rider. The electronic fuel injection (EFI) offers improved cold starts that will have your kids conquering the trails faster than ever.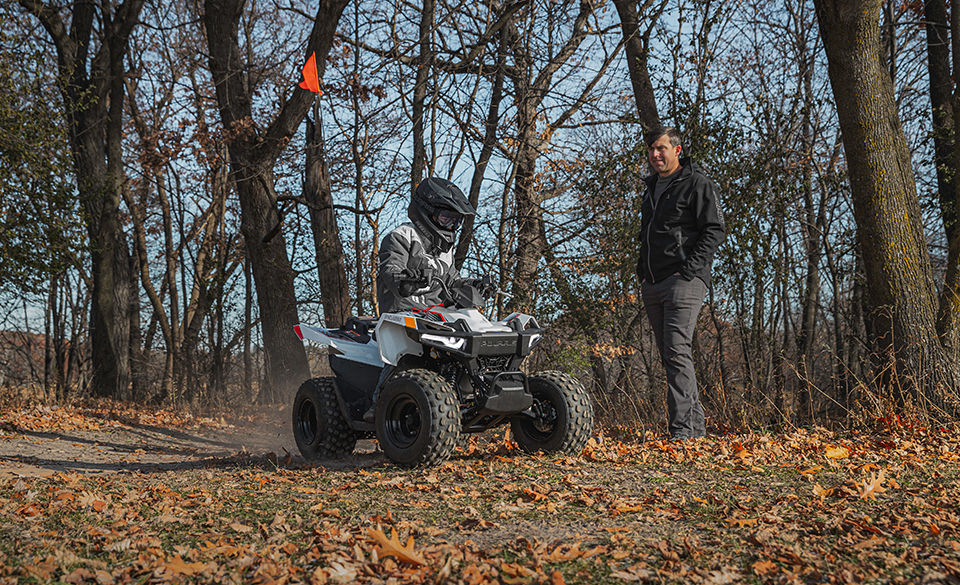 This new model features a 70cc engine that is built to complement a wide range of youth skill levels so riders can continue enjoying the machine through their growth spurts. The parent-adjustable speed limiter allows parents to set the safest pace for their kids while ensuring their riders are enjoying their unit to the fullest. Other features include an industry-exclusive safety kit featuring a helmet, safety tether, training DVD and whip flag.
The Outlaw 70 EFI is available in a variety of colors and will hit dealerships beginning in April.