Combine Family Camping with UTV Riding
Jun 29th 2020
What could be better than taking the entire family out of town for a weekend of camping? Combining it with a weekend of riding your Polaris Ranger, of course!
Getting your family out on the trails is the perfect way to truly enjoy the outdoors during a camping trip. Of course, before you even think about going anywhere, you'll want to first outfit your rig with all the parts and accessories that you've been wanting, which can all be found on EverythingPolarisRanger.com. After that, it's time to do some research on which campgrounds will work best for you and your family.
You'll want to do more than riding, so besides searching for the campgrounds with the best off-roading options, what else should you look for in a campground? Depending on the location of your desired campground, family activities could range from hiking, paddling, horseback riding, cycling, swimming, kayaking, and much more depending on your preference. If you're roughing it out in the wilderness, bring along some lawn games to get the whole family involved. Each campground is unique in their offerings, and research will tell you which is best for you.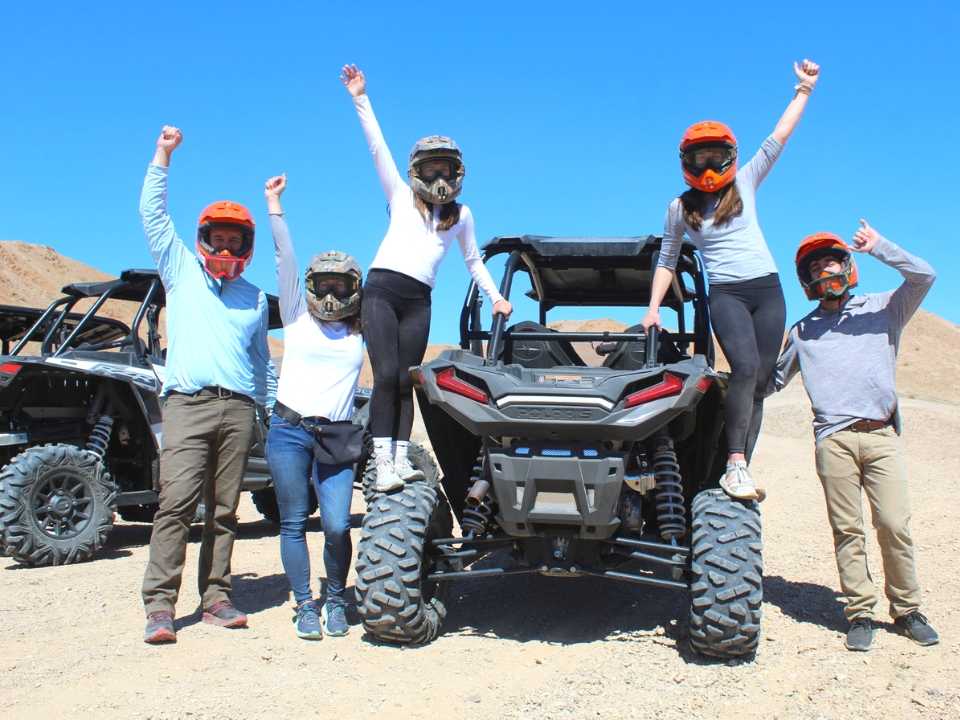 If you don't own a UTV but want to have the experience of riding during a camping trip, don't worry- there are plenty of campgrounds that have on-site UTV rental services available to campers. That way, you can scratch that adrenaline-junkie itch while not having to worry about transporting a rig to and from the campground, along with all the costs of repair and maintenance that come with it.
If you're looking for specific locations to vacation, here are some popular destinations around the country that offer riding options for families looking to enjoy the full offerings of their UTVs.
If you're looking for a getaway in the Midwest, check out the Mount Rushmore KOA in South Dakota. Located in the heart of the Black Hills, this campground offers bike rentals, guided horseback rides, gold panning, and, of course, ATV and UTV rentals. With surrounding destinations such as Custer State Park and Black Elk Peak, Mount Rushmore KOA serves as the ultimate getaway for families looking to get a taste of the outdoors.
Twin Hollow Campground is one of the most well-known campgrounds for its ATV and UTV rental options. This popular destination campground sits along the Hatfield-McCoy Trail System, which boasts over 600 miles of ATV and UTV-friendly routes. The campground provides direct access to three of the main trail systems- the Rock House, Buffalo Mountain, and Devil Anse. Along with having access to three widely popular trail systems, campers have the option of checking out the picturesque hiking trails and the nearby town of Gilbert.
With over 200 miles of ATV, UTV and full-size OHV trails situated around the campground, Hidden Falls Adventure Park is a mecca for powersports enthusiasts. Located just an hour outside Austin, this campground has access to trails that loop around the Texas Hill Country backlands that are perfect for enthusiasts looking to enjoy life from the back of a UTV for the weekend. The variety of trails offer a route for everyone, ranging from the adrenaline-junkies looking for a thrill ride to the family looking for a nice cruise. There are a wide range of camping options, from RV spaces to cabin and bunkhouse accommodations.
Anyone looking for endless riding options out West needs to check out Pirate Cove Resort. Over 3,000 miles of off-roading trails surround the campground, including desert sand dunes for those looking for that extra thrill. Situated on the Colorado River, this resort offers everything from boat rentals to Polaris UTVs for half-day or full-day adventures. This campground also offers free on-loading and off-loading zones for those bringing in their own rigs, along with other rider conveniences. Beachfront camping options along the Colorado River will provide an exciting and well-rounded weekend to vacationing families.
There are plenty of campgrounds around the country that offer incredible options for UTV riding. Whether you choose to bring your own Polaris Ranger or rent one for the weekend, stay safe and be sure to pack the essentials to keep your family safe and happy. If you need any parts and accessories before you go, Everything Polaris Ranger is here to help.